Status Update – November 03
Howdy hunters,
this week's status update is again brought to you by Phil who – this time – will actually go on a short vacation trip over the weekend, hopefully also slurping drinks in the sun as our beloved Alena still does.
Enough chit chat though, let's get to the far more interesting updates.
Movember
As mentioned on the forums, this year there will not be any fresh beards or facial hairstyles.
We decided to spend more time polishing the work on Timbergold Trails and to invest our efforts into core content, such as the upcoming Gray Wolf.
Of course, we will still participate in creating awareness about cancer and hopefully improve regular and early check-ups. Check out some of the team members trying their best at growing a mustache on Instagram.
And of course all existing beard styles are available in the in-game shop where we will give $2 per sold mustache to charity.
We want to thank everyone who supports this movement and of course encourage everyone to take this seriously. Don't play it down – early and regular check ups play a vital role and it is up to everyone of us to make an effort.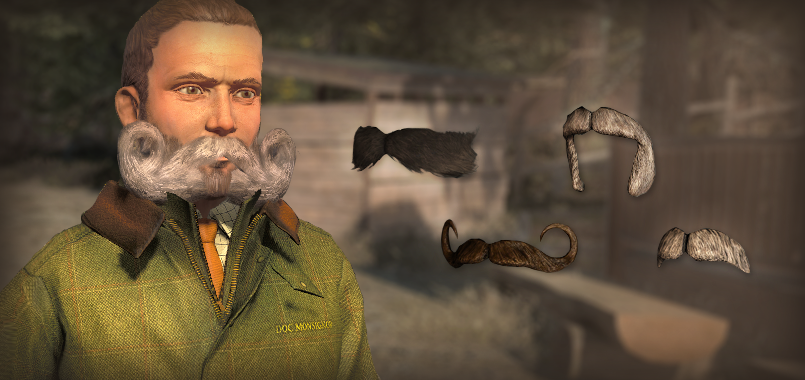 Gray Wolf
Last week, we officially announced the Gray Wolf and we are humbled by your feedback so far. It feels like we made the right decision to go for this amazing animal and we are closely observing any feedback. So don't hold back and let us know what you think, hope for and more!
Last time we shared work-in-progress screenshots and this week it is time for some moving images! Still taken from early development, we were able to steal a short video from Morris and Moe showcasing animations. Let us know what you think!
Updates
As we move on with increasing momentum on the Wolf, it might get a bit quieter in the next weeks when it comes to updates. Of course we are still monitoring data, your feedback and more and will jump on issues as we identify them.
Here is a reiteration of yesterday's game update with a sneaky addition (we are working on increasing the amount of possible clues on Timbergold Trails) and of course we are looking into a solution for equipment that was placed beyond the recently updated borders on Timbergold Trails.
Bug fixes
* Fix for pink texture error and crash near the reserve borders on Timbergold Trails
* Fix for Bighorn sheep odd animations on very steep mountains
* Fix for rare crash that can happen on client connection on certain reserves
* Issues with patching system that caused infinite download loop
* Crashes while patching to a newer launcher version
* Disabled the Halloween version of the Elk
* Disabled spook an animal contextual help
In progress:
* Shooting Ranges preparing to open
* Increased amount of possible clues on Timbergold Trails

There are more (way more) things in progress but here we only state what is close to completion within the next week(s)
Misc.
* Localization update
That's it!
All the best from theHunter team and a snowy Stockholm!
Share this