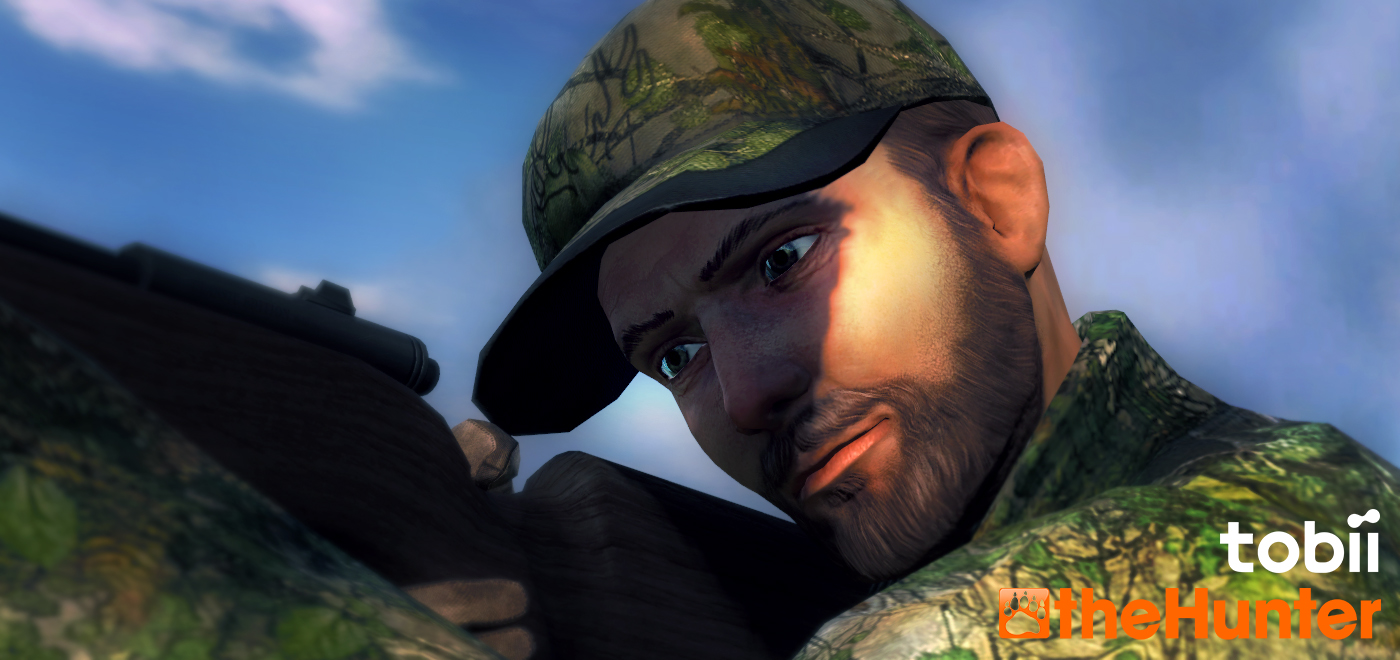 As we've mentioned in one of our status updates, we've partnered with the Swedish company Tobii to bring their sophisticated eye tracking system into theHunter and with today's game update that integration is finally live!
From now on, if you have Tobii's nifty EyeX gadget, you can control certain aspects of the game by moving just your eyes. The camera will pan to what you are looking at, which will bring a new intuitive experience when scanning the terrain for animals to hunt. It is even possible to raise your weapon with your eyes. Using traditional controls (keyboard and mouse) you navigate the same as always, except now, as you look to the left of the environment so will your character – all without breaking stride. This is called 'Infinite Screen' because no longer are you restricted to the size of your monitor to explore the territory freely. As a player, not only do you feel more immersed in your environment, you now have the ability to become more aware of your surroundings as you explore the unknown.
You can customize the EyeX settings in the Options menu in-game to make it behave exactly as you want. Note that these options are only visible if you have the EyeX connected with the relevant drivers installed (for any hardware-related issues please contact Tobii support).
Here's how one theHunter player who has been helping us to test eye tracking describes it:
"The Eye Tracking software was a great surprise – it was technology that I wasn't sure about initially, but I ended up really liking it the more I used it. It's very configurable and aiming by closing one eye is really immersive to the entire hunting experience. Watching the view move as I scanned my peripheral for animals really makes you feel like you're actually there, and helps keep track of any animals you may have otherwise missed as you walk around. Waterfowl and pheasant hunting is a blast with this technology, and makes leading them a bit easier as well. One of my favorite experiences with it was soon after I first got it up and running, had jumped into Whitehart Island, and was tracking a herd of Roosevelt Elk – sitting motionless both in game and in real life, and having my view change to follow them without touching anything was incredibly immersive and fantastic, and I found myself holding my breath in real life."
You can purchase your Tobii EyeX here for just $99 (regular price $139) using the code TheHunter. When playing theHunter with Tobii EyeX installed for the first time, you'll receive a special Tobii Eyemaster membership bundle bundle which includes a 14 day membership, 12 GA Pump Action shotgun, Male Mallard Decoys, Waterfowl Blind and a Sneaky 3D Summer Swamp outfit.
Happy hunting!
Share this