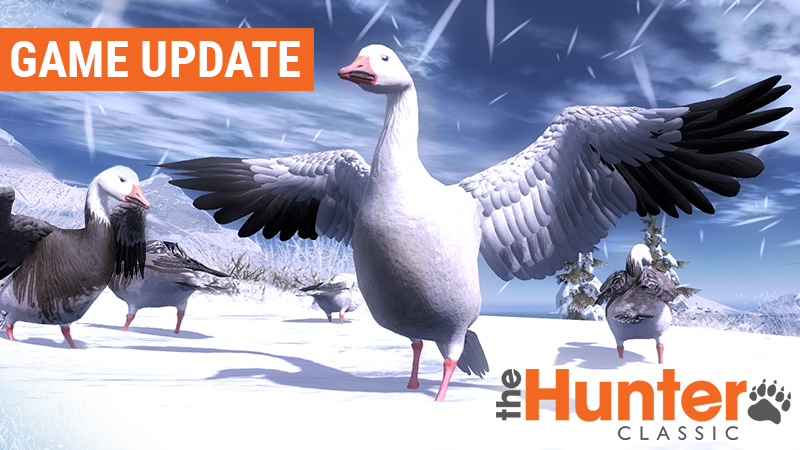 Howdy Hunters!
A new game update is live, and we want to let you know all the cool stuff you will find in it!
---
ANIMALS
✅ New species: Snow Goose
A new waterfowl has been introduced to the Whiterime Ridge reserve: the Snow Goose! Their name comes from their bright white feathers, however, some snow geese are actually gray/blue colored, and known as "blue morphs." You will be able to hunt both variants, together with a much rarer one, in the snowy lands and cold skies of Whiterime Ridge.
---
WEAPONS
✅ New winter camo for the 20 GA Semi-Automatic Shotgun
With the introduction of Snow Geese we thought you might need a suitable camo for one of the waterfowl-hunting favourite shotguns.
---
EQUIPMENT
✅ 3 Snow Goose Static Decoys
Static decoys for Snow Goose come in three flavors to increase realism: Feeder, Sentry and Active.
✅ Snow Goose "Flapping-Wings" Decoy
This type of decoy mimics the wing movement of a real Snow Goose.
✅ Snow Goose Flag Lure
This flag features the characteristic black and white color pattern of a Snow Goose and can be used at long range to attract geese with motion resembling a goose flapping its wings.
✅ Snow Goose Long Range Caller
This caller is used to increase the probability of birds breaking off from high flying flocks, and attempting to land, as they fly over an area.
✅ Snow Goose Short Range Caller
This caller  produces all the honks, clucks and feeding cackles needed to attract the birds that have already broken off a flock.
---
LARGE EQUIPMENT
✅ Waterfowl Blind – Arctic Winter Real Vegetation Camouflage
Especially designed for waterfowl hunting this blind comes decorated with foliage and vegetation from boreal forests and provides excellent visual reduction in subartic environments.
---
VIDEO
Last but not least, check out this cool video from Master Hunter HooCairs showcasing the Snow Goose and the new items!
Join the conversation on the Forum —> CLICK HERE
Share this