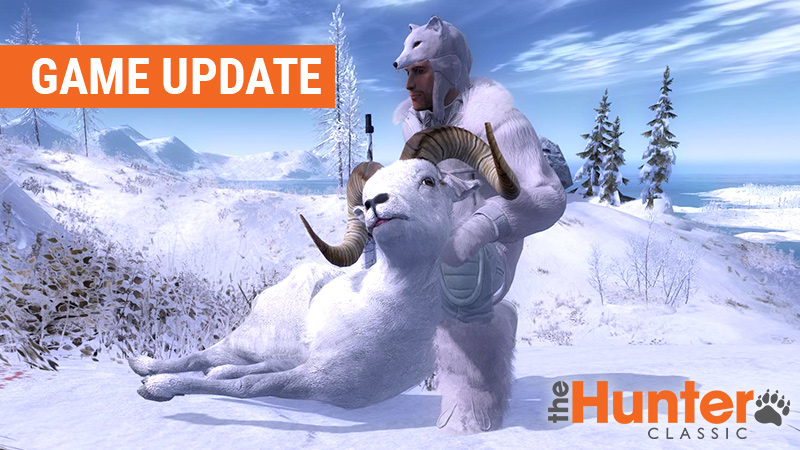 Howdy Hunters!
Today we're releasing a new game update and we want to let you know what you will find in it:
ADDED
✅ New Snow Goose Mission pack. Meet Igsivalitaq (no, the office cat isn't walking on my keyboard, that's actually an Inuit name!) and unveil his story in 10 brand new missions.
✅ New winter clothes set, perfect for hunting in cold, sub-arctic regions. It includes 5 items:
Arctic Fox Hat (White Fur)
Arctic Jacket (White Fur)
Arctic Gloves (White Fur)
Arctic Boots (White Fur)
Arctic Pants (Snow White)
FIXED
✅ Fixed the infamous "un-harvestable animal" bug, an issue where sometimes players were unable to harvest killed animals. This happened both in singleplayer and multiplayer, as well as during a "second day hunt" – just to mention the most frequent scenarios. This should be gone for good now and you won't lose your animals and trophies anymore. Please note that there is a similar, yet much rarer issue that we call "zombie animals" whereas when you shoot an animal it still looks at you and cannot be killed or harvested. This is a very rare issue and we are still looking into it.
✅ Fixed a bug where bullets could not be fired through some waterfowl blinds.
✅ Fixed a bug in the "Yin & Yang" competition where any animal would count against the competition's goal.
Hope you enjoy it, feel free to let us know what you think of the new additions as well as let us know if you find any issues on the Forum:
https://forum.thehunter.com/viewtopic.php?f=9&t=91691&p=1001297#p1001297
Share this