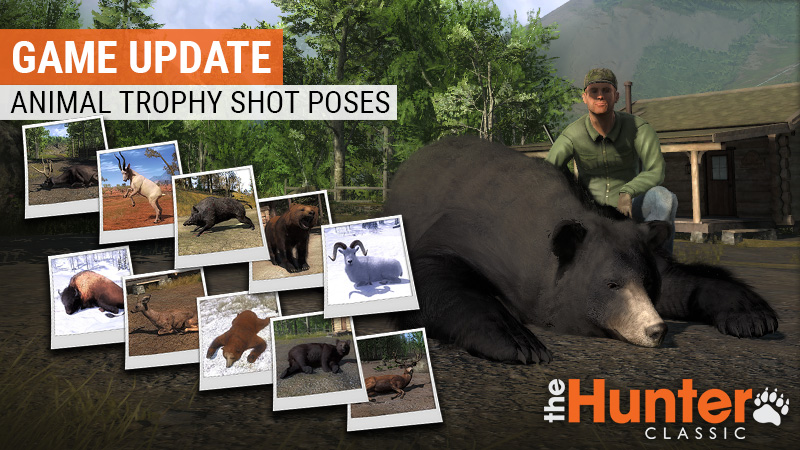 Howdy hunters!
We have just made a new release with a few fixes and some new content.
Here's the changelog:
NEW CONTENT
Added 10 brand new Animal Trophy Shot Poses packs:
✅ Mule Deer
✅ Blacktail Deer
✅ Black Bear
✅ Wild Boar
✅ Brown Bear
✅ Bison
✅ Feral Goat
✅ Dall Sheep
✅ Grizzly Bear
✅ Roe Deer
You can find them in the Store individually for sale or in one convenient Bundle!
FIXES
✅ Fixed an issue with the E-Caller UI where it would disappear after a specific series of actions.
✅ Fixed a bug where shooting some animals with 12 GA Buckshot ammo on localized versions of the game would cause the game to crash.
✅ Fixed a bug where sometimes the camera rotation freezed during a Trophy shot.
✅ Fixed a bug where taking a Trophy shot of an animal floating in the water would cause the game to crash.
✅ Few minor fixes in missions and competitions (6 missions and 2 competitions have been updated). Thank you for your feedback and please continue to send it, we are on a mission (excuse the pun!) to fix them all!
IMPROVEMENTS
✅ We have increased the power of .308 rifles in response to overwhelming feedback in that direction. Now you will find two types of ammo in the Store: the .308 Handgun Edition for handguns only and the .308 Rifle Edition for rifles. We hope you can finally enjoy the true power of .308 rifles now!
Here's a great video by Content Creator HooCairs showcasing the new .308 Rifle Edition ammo:
✅ Added a new key binding to "Unfreeze animal pose" during a trophy shot. You can find it under Options > Key Bindings > Trophy Shot (default key: ).
✅ 7 Mission Packs have been updated with improved descriptions:
Blacktail Deer Missions
Snowshoe Hare Missions
European Rabbit Missions
Coyote Missions
Rougarou Bayou Travel Missions
Roosevelt Elk Missions
Whitehart Travel Missions
Special thanks to community member TheSheWolf for reviewing and proofreading the mission's text!
We hope you enjoy this update, and as usual please let us know if you bump into any issues!
Join the conversation on the Forum:  https://forum.thehunter.com/viewtopic.php?f=9&t=92280
Share this