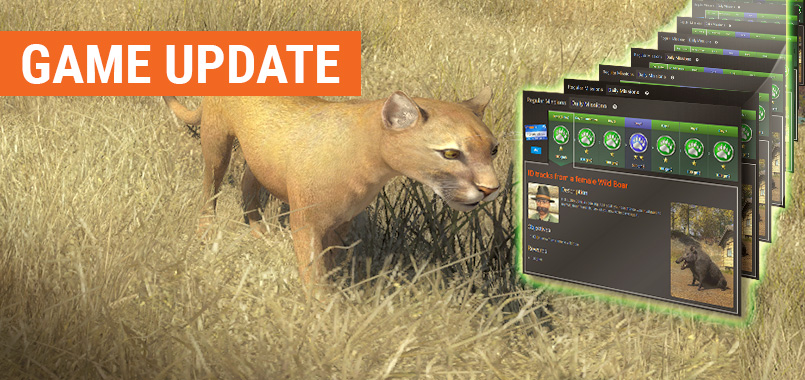 Howdy Hunters!
We're chuffed to bring you an overhaul to the Daily Missions feature and some UI tweaks to make hanging out in the EHR yet more fun.
✅ Added separate achievements for Daily Missions
✅ Added Special Rewards for the Daily Mission streak. There will be 2 new trophies (x3 variations each) and new exclusive items (3 clothes and 2 weapons' re-skins). Few examples, for completion of the 5th Hard DM in a row, the player will get a Hunting Cap (Tropical Camo), for the 15th Hard DM – .300 Bolt Action Rifle (Muddy Girl skin) and for the 29th – .17 HMR Lever Action Rifle (Engraved). It is fully described in the Help Section if you need to check up on something. You will not need to start your streak over again, you will get these rewards up to your current level once you complete your next Daily Mission.
✅ Some UI tweaks of Daily Missions section for better visualization
✅ Males/females species' images separation
✅ Added 30 new Daily Missions
✅ This Video from HooCairs will show you all the items you can win as rewards as you extend your streak.
We'll be back soon with more, so look forward to it.
Grab the Update on Steam and see what all the fuss is about.
Share this