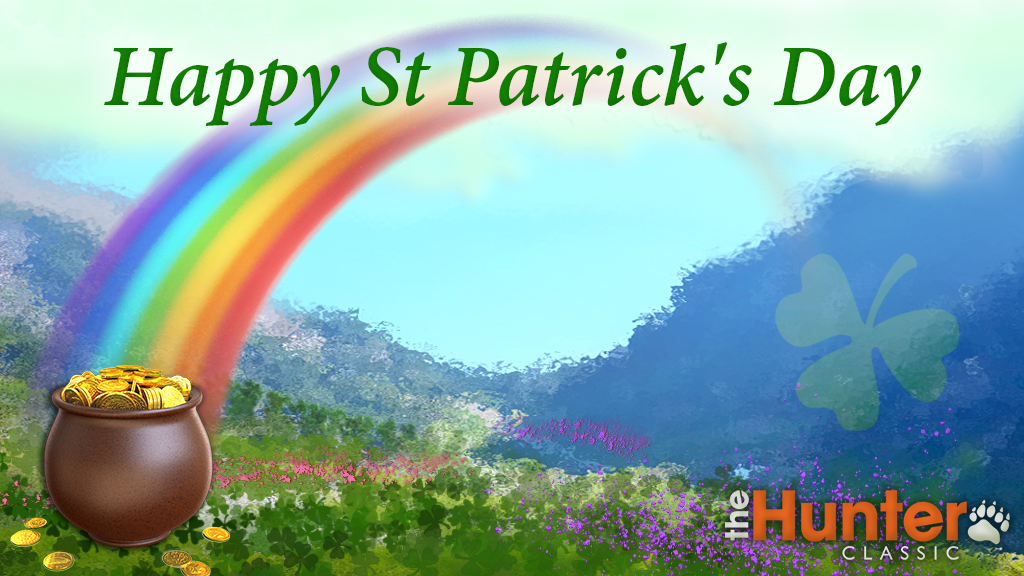 Top of the morning, folks!
Hoist a stein of Guinness (or tumbler of Jameson, if you prefer) and join us celebrating this year's St Patrick's Day!
We've got Guines$ on tap for our intrepid hunters, so take a shot in the event's mission, competitions, and a bonus in harvesting Cottontail Rabbits. Of course, we also have a Paddy's Day collectable to find if you need more.
Participate for prizes, trophies, and glory! The most celebrated hunter, with the most Guines$ at the end of March 23rd wins a craic first prize!
In order to take part in the event, you will have to click on the big banner you will find in the Launcher (or Website) home page:

Read on and familiarize yourself with the rules of the event.
CALENDAR
Event Duration: 7 days
Start: 17 Mar 2021 (Wednesday) – morning
End:  23 Mar 2021 (Tuesday) – 23.59 UTC

CAMPAIGN
We're not entirely sure who left them, but this year there is a collectable to be picked up from all over the EHR.
A Pot o' Gold randomly gives you 1-3 Guines$ for each one you pick up.
Keep an eye out for them while you're hunting.
Also, we're not certain how many collectables our little helpers left out, so we're also giving 5 Guines$ for each Cottontail Rabbit harvested. The little blighters eat clovers and we need all the ones we can find for our St Patrick's celebrations!
Ultimately, the more Guines$ you collect, the more in-game prizes you are rewarded.
Here are all the different ways in which you can earn Guines$:

And this is how the prize pool looks:
MISSION
This year's mission is called Paddy Wagon
"Craic to meet you, Hunter! I'm Sean Healy, from the fair County of Donegal. We've got our own reserves here and I've been asked to do a comparison of species. Basically, we want to know how ours are doing in this neck of the woods against the same or similar species. We're also looking at reintroducing some big predators because deer are taking over our countryside, I tell you! I'm told the EHR has everything I'm investigating, so could I trouble you to get some specimens? I'm not asking for free, you know. I've got some real St Patrick's rewards for anyone who brings me the full list."
You must harvest some species for an Irish game expert to compare to the ones in his Donegal reserve.
Harvest 7 animals in any order and across different hunting sessions.
The mission will last through the event's duration from the 17th March to the 23rd March.
Completing it will earn the hunter the following rewards:
COMPETITIONS
The event comes with three competitions each lasting 3 days!
Prizes for the competitions look like this:
RULES
What would a game be without rules?
We have one simple rule for our events: No exploitation of existing game mechanics to gain an advantage. All winners' hunts will be checked by EW staff prior to prizes being rewarded, and the decision will be final.
In case of exploits usage, EW has a right to disqualify the player from this event.


SALES
During the St Patrick's Days 2021 Campaign, a number of items will be on sale in the Store, including a juicy 50% discount on some Callers as well as 30% off a variety of weapons.
Make sure to check out the Sale section to see the full list!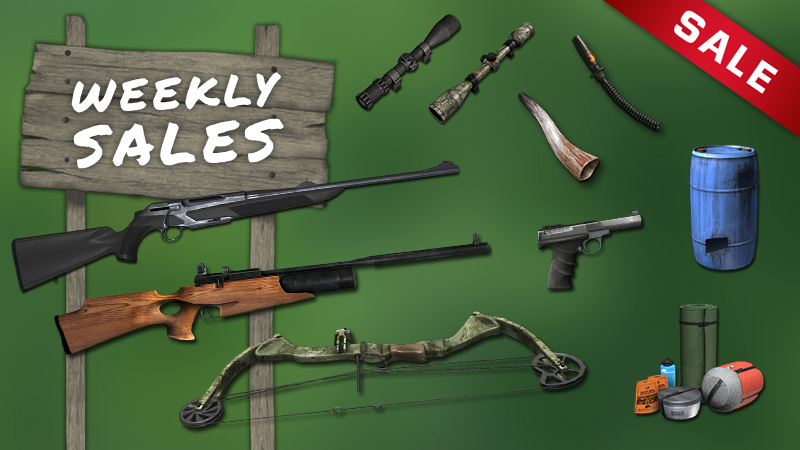 That's all folks, any questions, feel free to post them below.
Enjoy all!
Share this