Howdy hunters,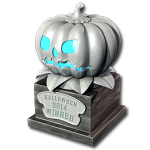 Pumpkin collecting and slaying the mysterious beast of the Settler Creeks are at their height and, judging by your feedback, you have been enjoying the Halloween missions. There are 3 days left till the end of the event, and it's about time you hit those missions, if you haven't done it yet, because your trophy gallery won't be complete without this malicious pumpkin. You're competing only with yourself, so there are no excuses 😉
We've prepared more hunting fun for you in the months to come, so stay put, the EHR will soon be brimming with events. Speaking about which, we're proud to announce that:
TheHunter goes Movember!

Movember (moustache + November) is an annual event in which people around the world grow moustaches during the month of November to raise awareness of men's health issues, in particular prostate and testicular cancer. This year theHunter's joining the Movember movement! In collaboration with Movember Foundation, we've organized a special event to raise funds for cancer research and awareness for men's health, together with you, our community.
Specially for Movember we've created a bunch of dandy moustaches for your avatars. You will be able to choose between three different styles – rollie, hulk or magnum, each of them available in two colour variations. They will cost 300 em$ and we will donate $ 2,- for every moustache purchased in our store during November. There'll also be a Movember ticker on the theHunter main page where you can track in real time how much money our community have raised. TheHunter Movember campaign will start on Monday, November 3rd, and will run through the whole November.
Here is the link to the Expansive Worlds page on the Movember foundation site, where you can make a direct donation, if for some reason you don't want to buy a moustache but still want to contribute. Money donated via our Movember page will go directly to the foundation.
That's it from us for today, happy Halloween hunters!
Share this