Hello hunters,
Time for another status update from us. If you missed the game update from yesterday,  alongside some fixes and changes we've also added leaderboards and achievements for Polar Bear, following your unambiguous feedback. Hope you'll enjoy hunting in the northern regions of Whiterime Ridge even more now.
As for the big news I promised you last week, yes,  it IS a new reserve we are working on! We released Whiterime Ridge in autumn last year and it's time to bring new hunting experiences to your game. What needs to be said here is that our Whiterime Ridge release was very turbulent, it was a harsh lesson for us and will do everything possible not to repeat our mistakes. For now we can only tell you that this one is going to be the biggest reserve in theHunter and our artists have been focusing on creating lots of amazing vista opportunities. If you've been with us long enough, you will know that creating a new location is a substantial undertaking with tons of things needing to fall into place before it's a product ready to be shown. So, from now on we'll be slowly revealing some bits and pieces of the upcoming location, but let the speculation commence!
And now onto another big piece of news for today, which is…
Introducing the new Recruit a Friend
We've always seen theHunter as the ultimate game for creating and nurturing strong bonds between people. Nothing makes us happier than seeing players from different parts of the world becoming friends for life, and real life friends and couples having fun in the EHR together. Because let's face it, what else could make a friendship stronger than stalking a monster Brown Bear together for half an hour through the chilly hills of Hemmeldal, finally getting that big boy and posing for a memory trophy shot? Not much, in my book.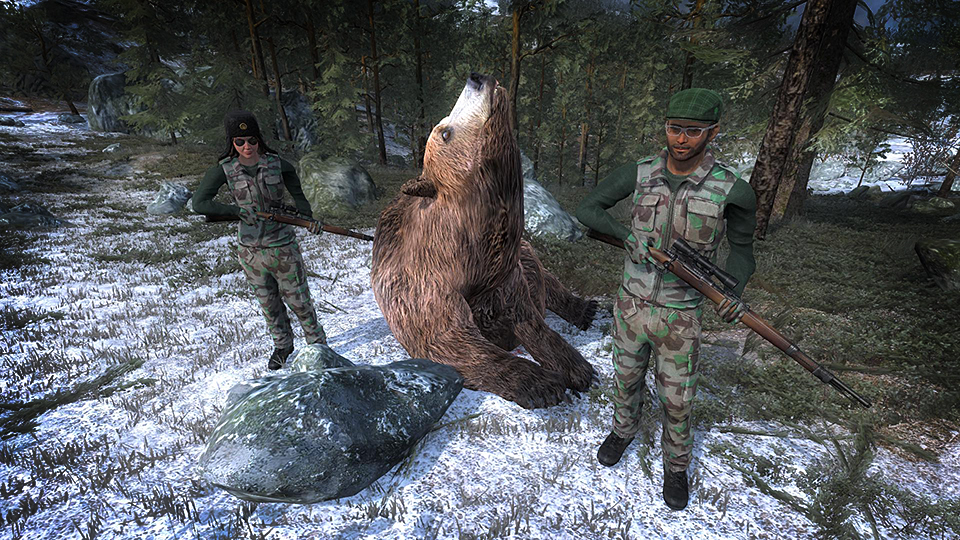 To motivate you to invite your friends to theHunter, we've had a Recruit a Friend programme. It has existed for a couple of years and although many of you have taken advantage of it, we felt that the programme has been lacking something.
So, we took a closer look at our Recruit a Friend system and decided to ramp it up a notch. Not only have we added more rewards to recruiters if the invited party buys a membership (including some exclusive items that are not possible to acquire otherwise), but we also put together a nice welcome package to people who joined by invitation, so they can get started hunting right away!
Rewards for Recruits:
All friends will sign up for theHunter using your referral link will immediately receive 200 em$, a 5x30mm Rangefinder, a Moose caller, and a large Scent eliminator! Whoop whoop!
Please note:
Happy hunting with your friends!
Share this