Hi there hunters,
Welcome to our status update! The depleted force of the theHunter team is making its way through July, sustained by the occasional ice cream and dreams about the beach. Our main work right now is focused around planning the autumn roadmap and features (and oh my, there is some good stuff in there) as well as polishing and testing things that will soon be released for you to enjoy.

Yesterday, a spanking new shotgun made its way into the store. The 10 GA lever-action shotgun. This beautiful firearm packs some no-nonsense power. And while at theHunter we, like no one else, appreciate sophisticated and skilful weapon work, based on correct weapon choice and precise shot placement, we won't lie and say we haven't been enjoying this beast of a gun. It's super fun, and its three ammo types make it extremely versatile. According to our community member JimboCrow, it's "sweeter than strawberry-rhubarb pie with powdered sugar and a scoop of vanilla!" Long story short, you should try it out. As always, we're running a special competition to give your first hunts with the new shotgun an extra punch. Enjoy!
At the beginning of the next week we're kicking off our month-long Summer Fiesta event which will make sure you don't get bored in the last days of summer. Johanna, David and yours truly, under the eagle eye of our game designer Patrick, have prepared three missions packs for you (easy peasy, nothing to worry about!) and there will be 5 different competitions for all the competitive souls. Our artist Johan has made some brilliant trophies too, well worth your hunting skills! Anyway, make sure to check back next week for more details.
Since we dropped the new animal bomb in the last status update, there have been a bunch of speculations on the forum. Great to see that with 39 unique species in the game, you are still as excited about new additions as ever! I'm happy to report on the progress. Our character artist Cecilia has finished the model and textures and our animator Moe and client code programmers Linus and Roberto are busy crafting some lovely animations and unique (!) AI behaviours. I haven't seen many correct guesses as to what it so far, so here are some thought-provoking details for you. The 40th resident of the EHR will live on Logger's Point, Whitehart Island and Rougarou Bayou (preliminary reserves, still subject to change) and our vision is that it will be an extremely challenging animal to hunt. We'll see where we end up at the end of the development and testing phase though. So, any more ideas? 😉
Finally, I wanted to share with you this sneak peek of the premium feature Luna has been working on. Filling feeders and barrels from the launcher to let you focus on real hunting. Please note that it is still very much work in progress.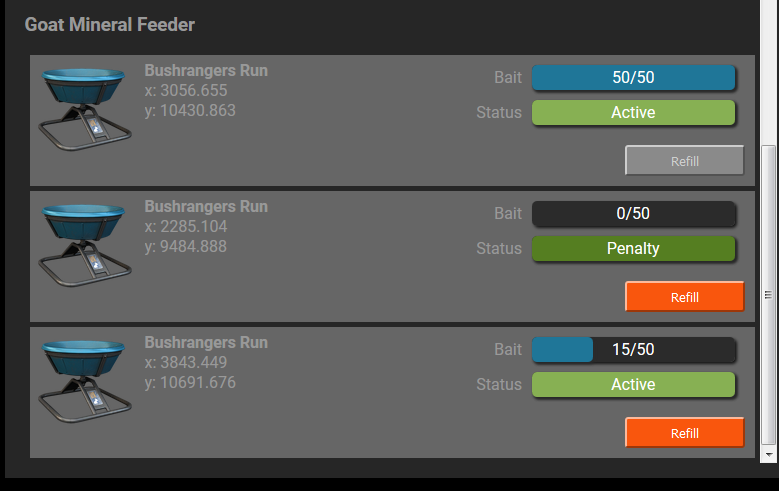 Next status update will be published in two weeks, in the meantime, as always, see you and talk to you on the forum!
Happy hunting!
Share this