Howdy hunters,
Thanks for stopping by! Today we are happy to announce the release of the new feature. Bait site management from the web or launcher. This has been requested for many years and we know how tiresome and, well, boring it is to start the game just to run to each of your bear barrels, hog feeders and mineral feeders to fill them up then wait for the attractiveness to kick in. Now you will be able to do it with one click of your mouse button on your commute to or from work, when the Black Bears of the EHR start calling to your soul inviting you for a cosy evening in Redfeather Falls

Introducing Bait site management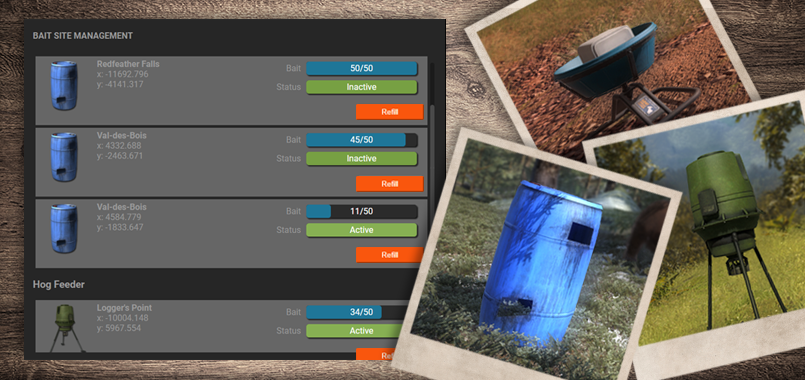 How this works?
You can access this feature via Settings > Game management > Bait sites. There you will see the list of your barrels and feeders, the amount of bait in them and the status (active / inactive / penalty). If you are not 100% sure how the baiting system works, here is a detailed description. Each bait site comes with coordinates and the location map, so you can easily tell which one is which.
From there you can fill your bait site, using the bait from your inventory, by paying a small fee of 5 em$ or 200 gm$ (there are discounted packs of 25, 50 and 100 refills that you can find under Services in the store, for those of you that have plenty of bait sites and use them a lot).
Please note that you need to have bait in your inventory to be able to use this feature, think of it as an additional premium service, improving your game experience and saving you time by taking away the hassle of filling bait sites manually. Remember, you can continue to fill your bait sites using the old school method.
What changed?
While working on this feature, Luna and Martin have found and fixed a whole bunch of bugs in the baiting system, here is the full list of fixes:
Fix for the issue when shooting an animal within the radius of a bait site didn't trigger the penalty.
Fix for the issue when moving a bait site to a different place didn't trigger the "inactive" cooldown.
Fix for the issue where a bait site being placed in the world didn't set the "inactive" status correctly.
Fix for the issue where a bait site that had been emptied didn't trigger the "inactive" status when refilled.
Fix for the issue with feeders being placed in a reserve didn't have the correct reserve ID, thus rendering got broken.
Fix for the issue where the feeders didn't remove the bait attractiveness from a feeder with penalty.
Fix for the issue with bait being consumed after a bait site is picked up and placed into the inventory.
Fix for the issue with barrels being picked up and placed down again not triggering the inactive status.
That's it, hope you'll enjoy this new feature!
UPDATE 18/8/2017: Following community feedback, We just released a function to choose the amount of bait to fill in your bait sites. Attention: you first need to pick the amount of bait you want to fill a specific bait site up to. I.e. if I want my bait site to have 40 baits in it, I would choose 40, regardless how much is left in my bait. After that you go to the bait site you want to refill and click Refill. The system automatically takes from your inventory the amount of bait needed to fill the bait site up to the desired amount and adds it to the chosen site. Eg. I had a bait with 5 bait in and I want to have 40 in it, I choose 40 in the top right corner of the UI, click refill button next tot hat bait site and 35 bait get consumed from my inventory (40-5=35). That's it. Please note that cost per service is the same, regardless how much bait you put into your bait site. Enjoy!
Antler shed collectables are coming!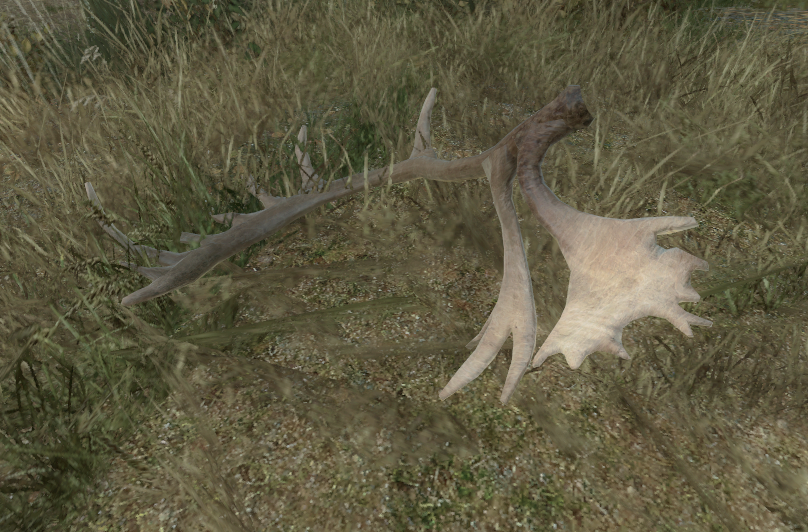 Here's something I've hinted about before, and it's another feature that has been asked for countless times. New collectables! Antler sheds with their very own leaderboards. Roberto and Patrick are working on enabling all our male antlered species shed their crowns in respective reserves and Luna is working on sorting out the scoring and leaderboards. Stay tuned for more news on this!
Lock&Learn – Devs vs Community
Oh, and don't forget to join us today at 16:00 on our official Twitch channel to celebrate 3000 followers. Johanna, Stefan, Greg and myself will clash against four community members: Nightmare, Dragonhorn, Raw100 and magicISO on the battlefield of Hirschfelden. Who do you think will win? See you there!
Happy hunting!
Share this