Hi Hunters!
Or maybe we should say "G'day"? Today marks the unveiling of Piccabeen Bay!
The team has been hard at work over the past months creating what we hope to be  one of our best reserves to date. We set the bar pretty high when we created Timbergold Trails, and we have aimed to maintain that same standard of quality, love and attention to detail with Piccabeen Bay. As well as all-new flora and species, there's been some technical changes we've rolled out for the first time. Read on or the full run-down!
A New Reserve, With New Inhabitants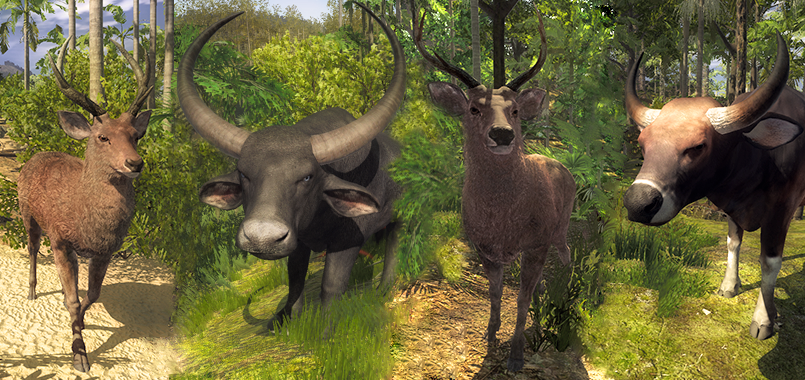 When stalking the tropical woodlands of Piccabeen Bay. we'd recommend you bring out the "big guns". This reserve features our biggest animal to date (also, the biggest horns – a real treasure for your trophy lodges), the mighty Water Buffalo! This sedate-looking bovid, as its name suggests, can often be found wandering around swamps or rivers. But be on the lookout, the Buffalo's calm exterior gives way to fearsome charges should it feel threatened. No hunter wants to be on the receiving end of 600 kg (1,300 lb) of charging horns and muscle!
On the subject of big bovids, we move on to our next inhabitant of Piccabeen Bay, the Banteng. Although at a glance similar in appearance to the Buffalo, a Banteng can be easily differentiated by its high, almost upright, curved horns. No need to panic should you meet one, these are a lot more docile than their Buffalo cousins! Originally introduced to Northern Australia by the British as a livestock animal, the Banteng fast adapted to its new home and spread prolifically.
Moving away from the big lumbering beasts above to the more delicate Rusa and Sambar deer. These two deer species are biologically allied but can be differentiated by their size. Whilst a big Sambar can weigh up to 546 kg (1,204 lb) the Rusa is much more diminutive with around 135 kg (300 lb) being more common. Both animals however sport a fine rack of antlers that will be sure to look great in your trophy lodges! We've also equipped Rusa and Sambar with some lovely new behaviours and animations, and hope you'll enjoy the new level of realism and immersion they offer. You can grab the new Rusa Deer "Grunt" Caller in the store, however hunting Sambar Deer will require extra skill and patience. We plan to release urine sprays for Sambar and Rusa deer in the not-too-distant future.
Now for our last inhabitant of Piccabeen Bay, we shouldn't forget the Feral Hogs! Unlike the Wild Boar, this animal has clear lineage to domesticated livestock and tends to either be an escapee of farms, or a direct descendant of said freedom-loving suidae. Pigs of all kinds are lets say… very enthusiastic feeders. Their foraging and digging of roots can cause extensive damage to plants, even resulting in serious erosion issues around rivers and such. Save the world, hunt a Feral Hog! 😉
Things Are Hotting Up!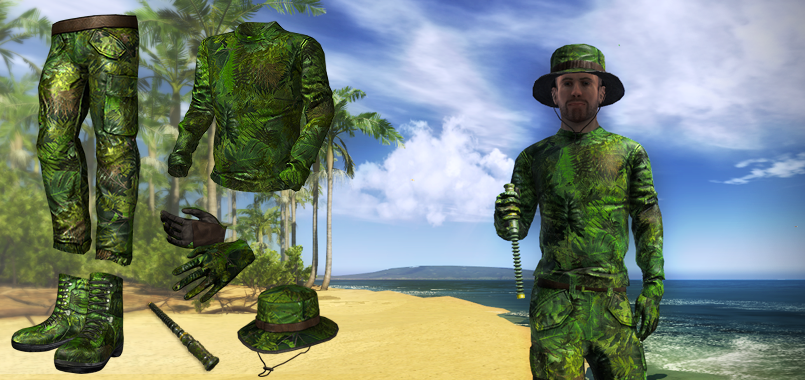 Inspired by the hot tropical forest region of Australia, we wanted to differentiate the feeling of the reserve with more than just new plant life and animals. Similar to Whiterime Ridge, we have introduced a map-wide mechanic which takes into account the punishing nature of the climate.
The new warm weather mechanic is something that will begin to take effect as you progress into long hunts. Your screen edges will start to blur and your aim will not be as true or steady as it was before. In order to combat this, we've introduced a new Water bottle item (you'll receive three of these for free, and they replenish automatically at the beginning of each session) which you can take a sip from to stave off the effects from the heat. Like in real life, you slowly recover when standing still and overheat faster when running. You also need to be smart about the clothes you are wearing (all the basic clothes you received for free when registering for an account at theHunter will work great, and you can find the new warm weather resistance parameter in the store description for each clothing item). The new Sneaky 3D Tropical Forest camo gear with its high-tech synthetic materials will keep you protected not only against the heat but also from animals' eyes. On an average-length hunting session, you shouldn't feel overly impacted by this effect, but we would NOT recommend wearing arctic gear or bringing your heated tents!
In addition to Piccabeen Bay, the new warm weather gameplay mechanic has been rolled out to Bushrangers Run, given the similar climate. The Outback outfit, a common choice for hunters of Bushrangers Run, will also help keep the warm weather effects at bay.
What's Special About This Reserve?  A Word From Alena.
The tropical forest environment was the clear winner of our last player survey and we were happy to take this opportunity to add something new and unique to theHunter Classic.
For one, our programmer Patrik took a stab at something we wanted to implement for a long time – running water. You can find small rivers with running water throughout Piccabeen Bay.
Secondly, we've also added thunder and lightning, to add a special touch of atmosphere to this reserve when it rains. Like Timbergold Trails, released last year, Piccabeen Bay won't support low settings. This means both Timbergold Trails and Piccabeen Bay are forced to medium scene complexity, even if you set this to low in the launcher. For more information on this decision, please check this status update.
Since technology development doesn't stand still and we keep receiving conflicting reviews on how the game plays on some computers, today we are introducing "recommended settings".
Recommended settings:
Operating System: Windows 10 64-bit

Processor: Intel(R) Core(TM) i7-2600 CPU @ 3.40GHz (8 CPUs), ~3.4GHz or Higher

Memory: 8GB RAM

Graphics Card: GeForce GTX760 or Higher
Share this