Hello Hunters,
Yesterday was National Day of Sweden and the whole country was out in the sunshine enjoying themselves. But it was also the reason the Status Update is on Thursday this week. So no more delays… let's dive into that information!
Deployable Targets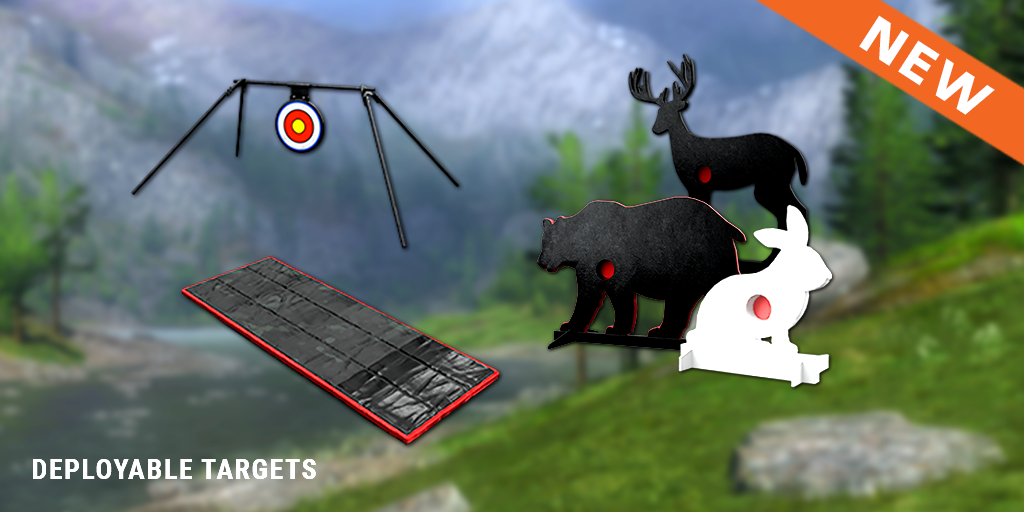 These new additions have been out in the store for two days now and we are getting some very nice feedback from the community, almost as nice as the feedback you receive when shooting those bells, "DIIINNNNNG!"
So how do they work? Here is a run down on everything you need to know:
All Deployable Targets and Shooting Mats are deployed with the same functionality as any other deployable item in game. All Mats and Targets spook animals when placed. The reserve limit for Mats and Targets is 30.
Shooting Mats:
To use a mat, approach it and once the option appears, press 'E' and follow the prompts in the radial menu.
While on the mat you will not consume ammunition, all shots will be registered on the scoreboard (in Multiplayer only) and you can not shoot at animals.
While on the mat a player can not walk or run, but can enter any firing stance (Standing, crouching and prone).
Firing from the mat will spook animals.
The shooting mats remove foliage when placed on the ground, this has been done to assist with a clearer field of vision.
We wanted to make this as flexible as we could for users to create competitions, so shooters do not have to be bound to one mat. You could in theory set up a shooting course. For example a competitor could start at mat 'A', have to shoot 3 targets, with 3 bullets in 'X' amount of time. Then run to mat 'B' and shoot the next lot of targets with whatever house rules have decided and then move to… etc.
Only the host can clear the scoreboard.
To leave a mat, simply press the 'E' button again.
There are 3 different variations to pick from, all provide the same function.
Animal Targets:
There are 3 animal silhouettes you can pick from, a Rabbit, Deer and Bear.

Each animal type comes in three different colour variations, White, Black or Black with a Red Outline.

There are no difference in functionality between the colour variations, we triedto provide a range that would work in different environments. We also understand that everyone's eyes work differently and we hope that these variations help to cater to these needs.

Each animal scores different points when hit in the red bell (Rabbit 7, Deer 5 and Bear 3)

If you are close enough, you will get a very satisfying 'Ding' noise to confirm you have hit.

To free people up from FPS drop, bullet holes will always show if you hit the bell. But over 120m, the bullet decals will not show anywhere else on the animal models. When testing we found that FPS started to drop quite rapidly the more bullet holes we retained at distance. Never fear, the long range (field) targets show bullet holes at any distance and on the animal targets you can still actually see the projectile impact.

Hitting the target in the bell will give you shot information in the bottom right corner, points and distance.
Field Targets:
There are 6 different target variations to select from.

The more rings a variation has, the more points can be scored when shot.

The smallest being 1,2,3 and the largest being 1,2,3,4,5,6,7,8,9,10, depending which ring you hit.

The targets are on a swing arm, meaning they rock back when hit.

These targets are designed for the longer shots, but also add more variation into the scoring of any competition that is set up.

If you are close enough you will hear the impact on the target, "DING".

Hitting the target will give you shot information in the bottom right hand corner, points and distance.
The Scoreboard:

Can be accessed by pressing 'F3' in multiplayer games.

Only a host can clear the scoreboard of scores.

Total Score: A players' total score that has been accumulated by shooting Targets.

Total Shots: The total number of shots taken while on a Shooting Mat.

Efficiency: Your average score worked out on how many shots have been taken.

Accuracy: What percentage of shots have hit the targets.
If you have not had a go with them yet, we will be hosting an open multiplayer game today live on stream and you can come and try to out shoot me

…. Should be easy!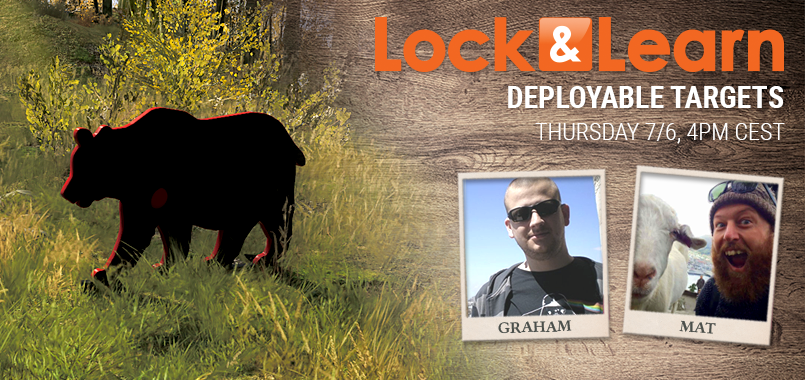 theHunter: Classic Football Jamboree 2018

Next Thursday this amazing event kicks off, last Thursday on stream we revealed the 'Golden Gun' that everyone can win, and this year it is the popular '10 GA Lever Action Shotgun'. If you would like to see it in the flesh you can check out the replay here, skip to 6mins 45seconds to check out the 'Golden Gun' and stay around longer if you want to see the Deployable Targets in action as well!
Next Wednesday the full event details will be available to everyone in the Status Update and in the forums. But my tip would be to start googling which teams are the favorite to win the 2018 FIFA World cup.
Swedish Holidays and 'Swewis' (Skip if you read it last week)
We are now entering Summer for the Northern Hemisphere, this means the holiday period is soon here for most countries. Stockholm is a ghost town throughout July and August as Swedes go and let out a years worth of bottled up emotions and stress on other countries around the world. If you would like a little tongue-in-cheek look into Swedish Culture this video sums it all up pretty well.
But anyway how does this affect you guys??? Well hopefully it doesn't, but it is worth mentioning a few things to consider:
We will have a much thinner team here over the two months. We have staggered out holidays amongst the team, so we always have people here, however our bandwidth will be a lot smaller.
Status Updates will become Bi-weekly.
Our Support team will always be available, but with a reduced team size, response times will be slower than normal.
We still have an action packed summer planned with lots of fun events and some very nice releases!
What is a 'Swewi' you are asking? Well if a baby is born that is half Swedish and half Kiwi, that is what you end up with, a 'Swewi'! My partner Jenny and I are expecting a baby boy, he is due on the 24th of June and so at any time or day shortly I will have to take off for a month. We are both very excited as this is our first child and while I think I am mentally prepared for this… I know I never really will be, exciting times!
Albino Ambition #2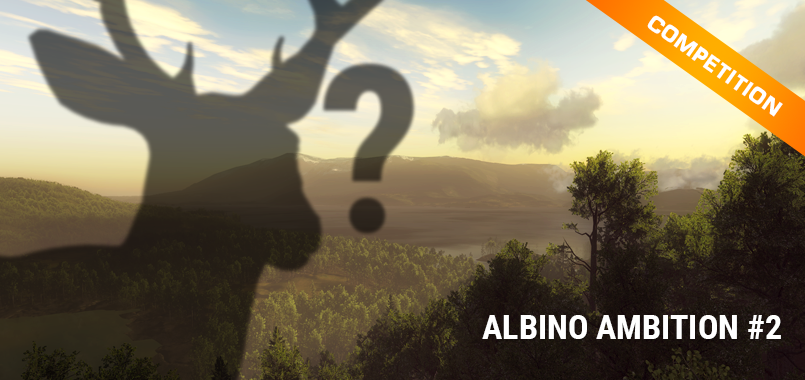 We have updated both the Mule and Blacktail Deer Albino skins and if you happen to shoot one of the new ones, make sure you post it here for your chance to win some sweet prizes! It will run for a whole month and we will be picking one winner every week. These seem to be a lot harder to find than the Albino Moose and Whitetail Deer, so if you have shot one, make sure you enter it in the competition, as you have a great chance to win! Good luck!
This weeks winner: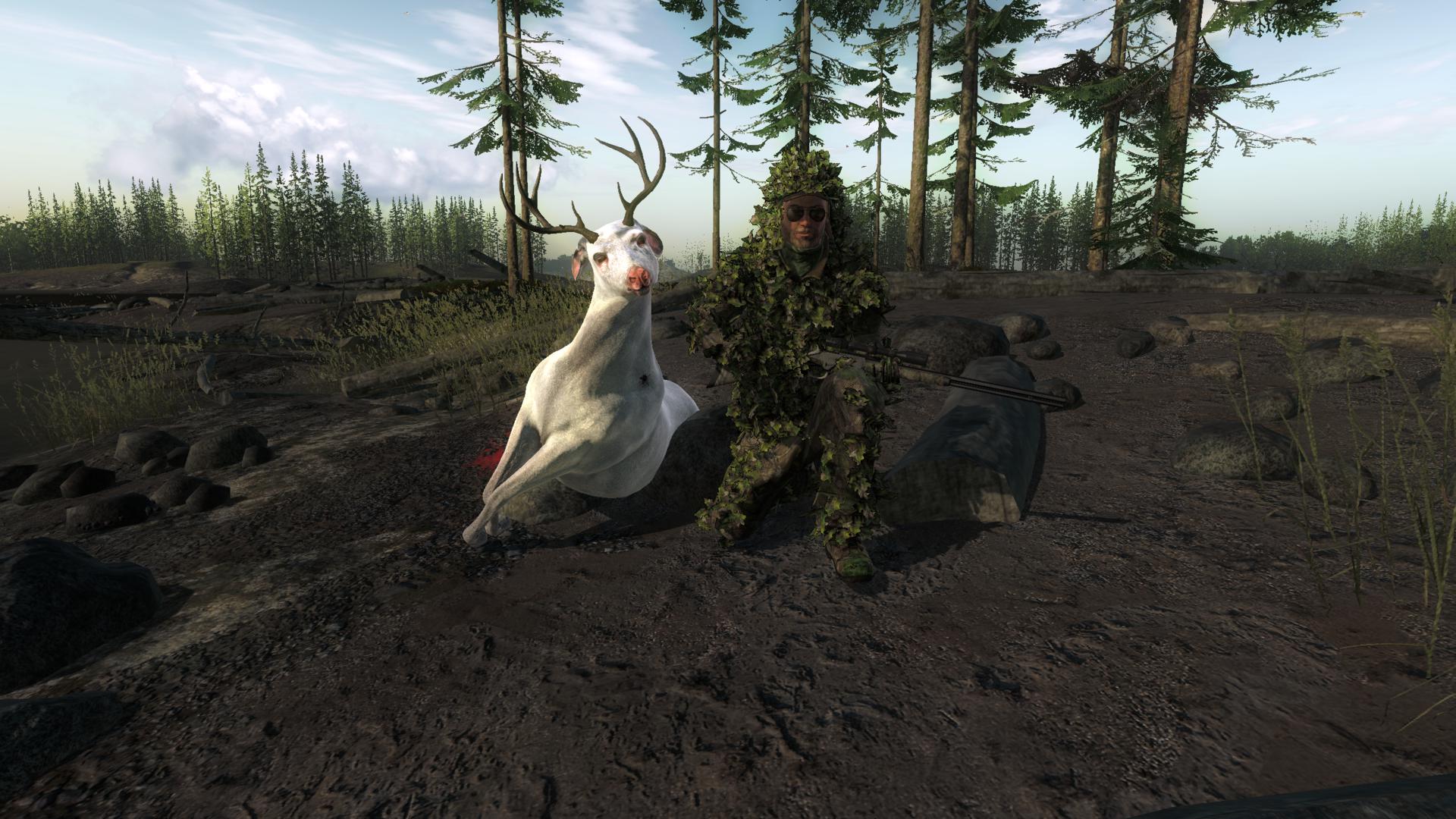 gr1zzly1 for this very nice BlackTail Buck! Congrats. A very nice trophy shot! Next week is your last chance to win in this competition, good luck!
GDPR Regulations Changes.
You might have noticed some extra notifications in the launcher and website regarding GDPR. Please take the time to read through the information provided, because some policies and agreements have changed.
Known Issue(s)/Fixes
Missing Hunter Score. This was caused by both the .300 and .300 carbon being merged by mistake. We are looking into a possible fix and will have more information to you as soon as we have a solution. Sorry! (Ongoing Investigation)
Barrel/Bait Sites. Investigation has commenced and we will update with more information when we have it.
Gun Wobble in Towers. We are aware of this issue and believe we have found the issue, after we are happy that it has been fixed, you can expect it in a game update soon.
Projectiles not registering after 500m. We are currently investigating, we know why it is happening, we just have to work out how to fix it.
Deployable Targets Not Rendering beyond 220m. This one is a little bit more complex to solve, but it will happen. A work around, until it is solved, once a target has been brought into render, it will stay. So you can either walk up to within 200m of the targets, or put a tent off to the side, halfway down the range and then walk back up to your shooting position. We understand this is inconvenient and frustrating. Sorry.
Fast Traveling Ropes. We are aware of this issue and aim to have it fixed as soon as we can.
Rare and Trophy of the Week
This competition has become so popular that we have decided to make it a permanent feature and it's here to stay for the foreseeable future!
So, if you have shot a rare or high scoring animal from this week and want a chance to win, then share them in the correct thread on our forum, don't forget to mention the score! Rares go into this thread and trophy animals into this one. We currently don't have a competition for Non-Typicals, but they go into this thread.
This Weeks Winners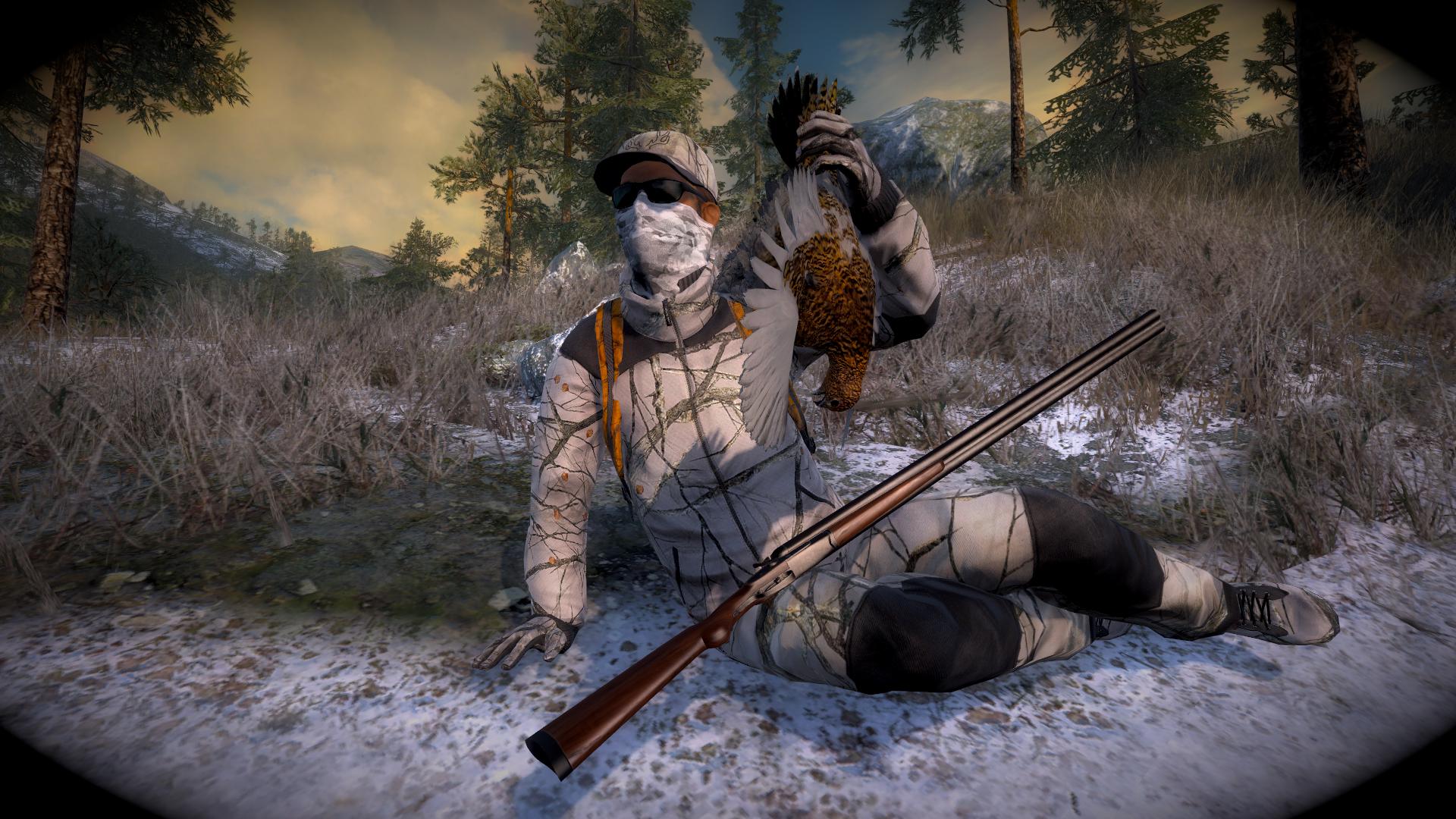 The 'Trophy of the Week' is this nice Willow Ptarmigan which was shot by Hifisch. It has a great score of 806, congratulations! If you are unsure of what many consider a trophy Willow Ptarmigan, it is anything over the 700 scoring mark.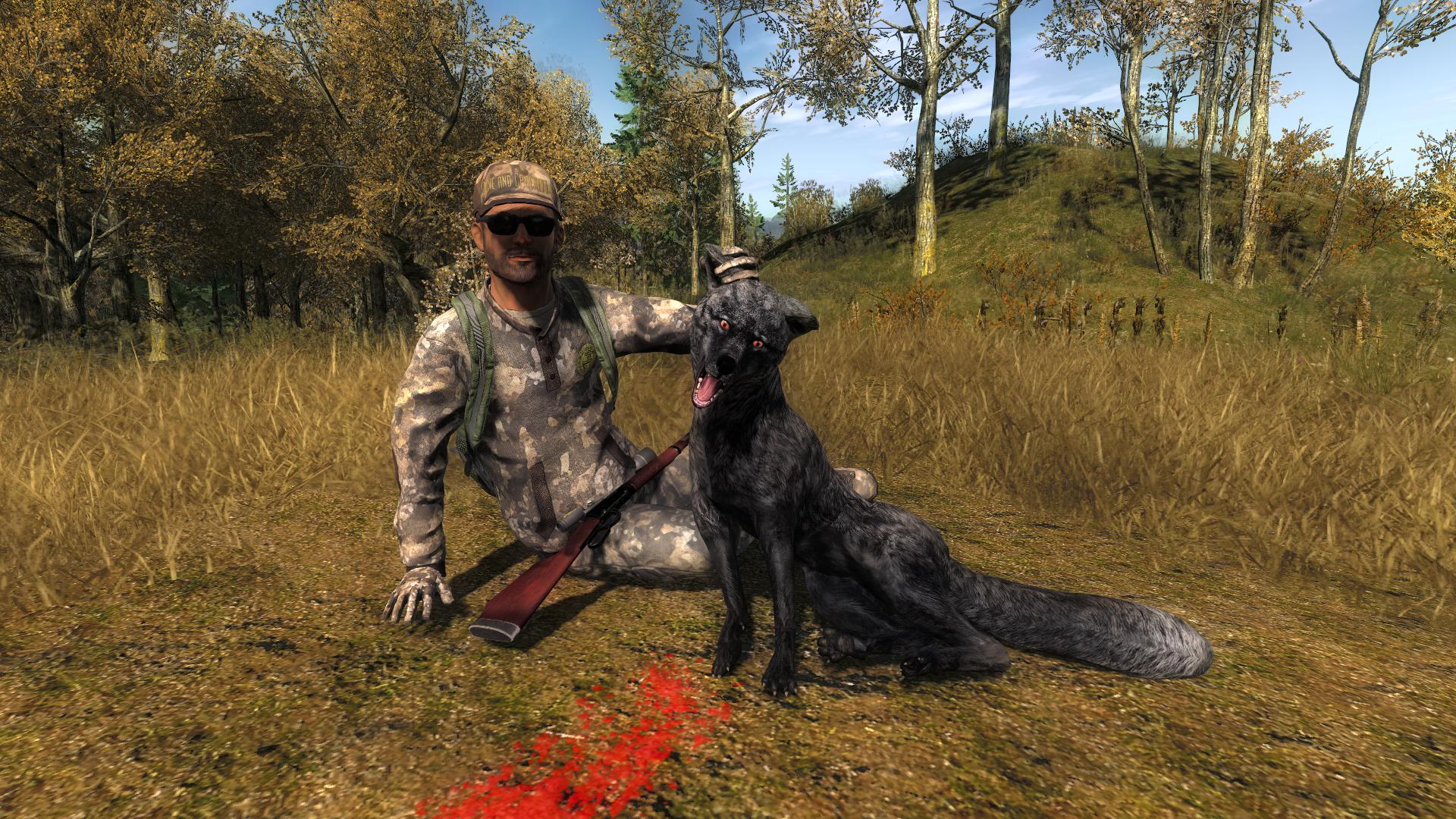 And the 'Rare of the Week' goes to smiledmeteor443 for this Silver Tipped Red Fox, scoring 9.125. An amazing trophy and a very nice trophy shot, congratulations!
Free Rotation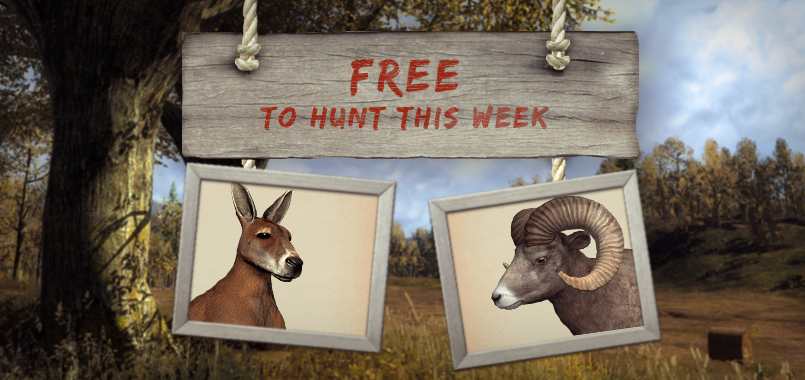 This week's free rotation, lets our guest hunters test their skills against Red Kangaroo and Bighorn Sheep. Good luck and have fun!
Have a great week all,
Share this