Hello Hunters,
How are we all on this fine Wednesday? Did you know, the hardest part about these Status Updates for me is writing these introductions. I feel like I am in an elevator and make eye contact with someone I don't know very well, so have to make awkward conversation. Accept, it's just me staring at a screen and pretending you are all here, looking over my shoulder reading this. Anyway… 😀
Summer Fiesta 2018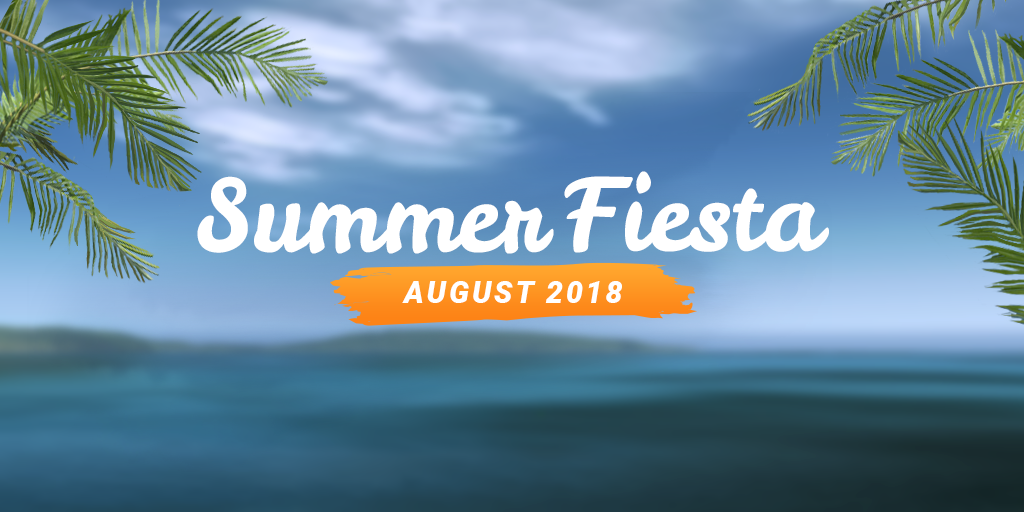 Today we start off this years Summer Fiesta, which runs until August the 31st, that's right, all month long!
So what can you expect from this event?
The main competition is called 'Summer Fiesta Weightsaver'. A new animal is added every Wednesday and Friday, the trick to it all is that you never know which animal is next on the chopping block. Your heaviest animal from each species is added together and their combined weight is your competition entry. This event is Single Player only.
Here is a look at the main prize from this competition, the top three people will come away with this amazing .30r.

And some very nicely themed trophies!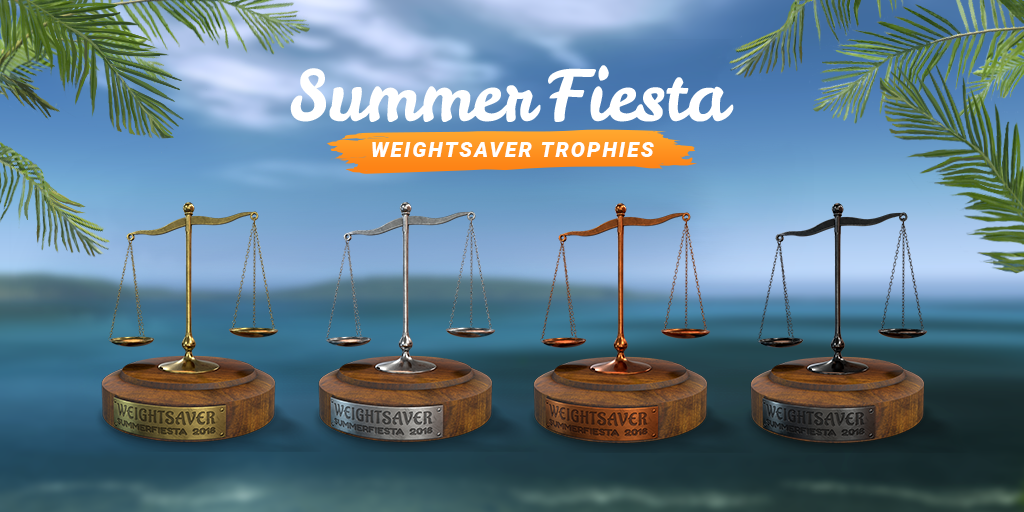 The second part to this event are weekly competitions that are season themed (Spring, Summer, Autumn, Winter), these ones can be completed in either Multiplayer or Single player and run Wednesday to Wednesday Weekly. As well as em$ there are some very nice trophies that you can win.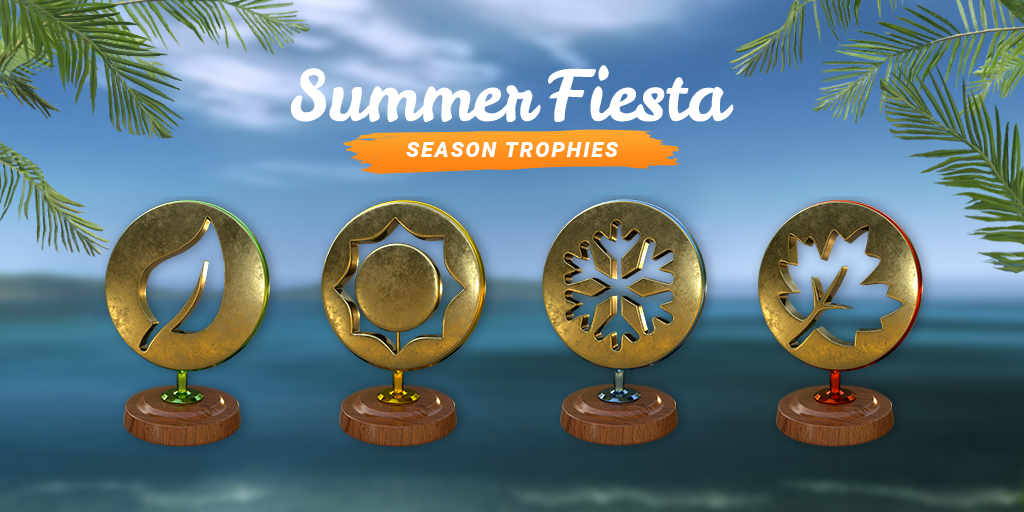 Missions
This event is notorious for hard mission packs and I personally think that a player that manages to acquire all three badges this year, should have maximum bragging rights. I am very interested to see how everyone gets on and how many people manage to finish them all. We have tested them all here and they are all achievable… we understand they might not be everyone's idea of fun, but a lot of the community enjoy a good challenge. This year you have to work your way through all the packs, starting at the 'easiest' Fire pack and ending at the Insanity pack. Here are the badges you can win!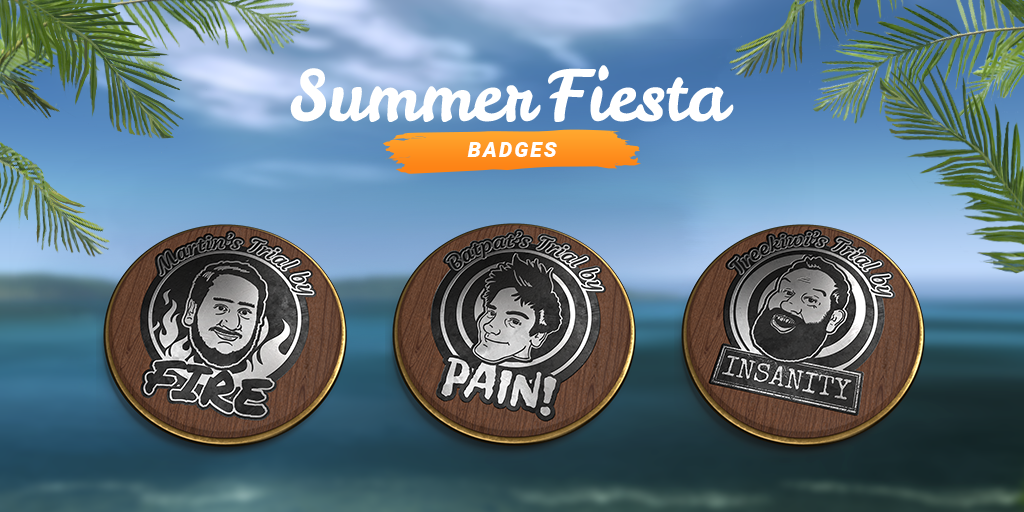 Good luck to everyone, remember to keep breathing and count to 10 when those missions become a little infuriating. As a little bit of fun, I was talking to Flinter this morning and he was saying that he didn't think Zaggi had the skills to complete this years missions… shots fired, watch this space!
For more details and to join the discussion Click Here.
The Big Five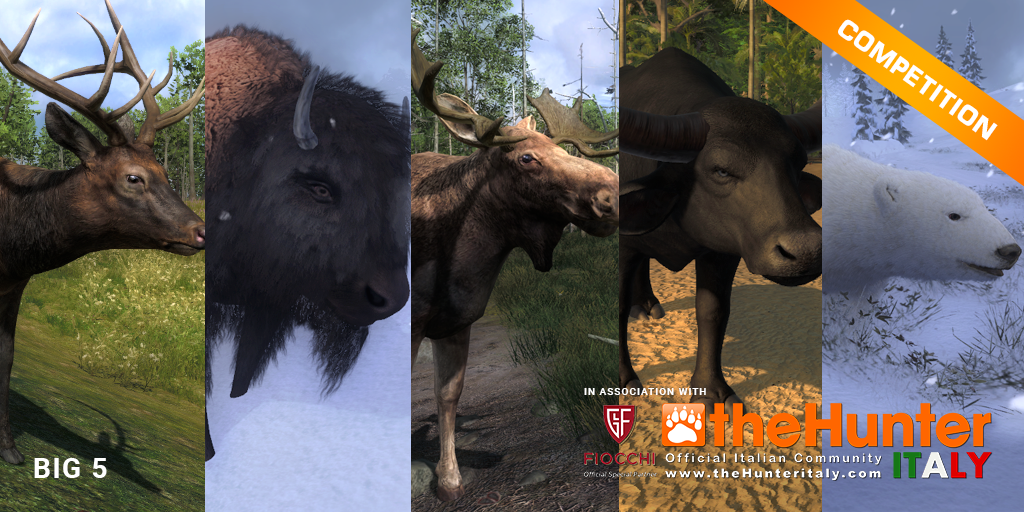 What an amazing event, we managed to get 2000 entrants exactly and 752 people managed to get a score on the board. Over 2.5million kgs of digital animals were harvested and this was only every players heaviest weighing animal, not all animals that were shot… imagine what that number would have been!
Again we have to thank both theHunter Italy and Fiocchi Munitions, it has been a pleasure working with you both and the amount of positive feedback we have received from the community has been overwhelming.
A list of the top 300 competitors can be found here and a huge congratulations must go to the winners and everyone that participated. I nearly have all the winners details sorted now and I expect to be able to send the prizes out tomorrow!
New Item
It is time for your next clue regarding the soon to be released item. The first clue was

"I am trying to think of a hard clue that you can't just put holes in with ease…. I think that will do."
And your second clue is "2+1"
Known Issue(s)/Fixes
Projectiles not registering after 500m. A fix for this is currently being tested and we will release it to you as soon as it passes.
Golden 10 GA not displaying in gun racks. We are working on a fix for this and it will also be addressed in an upcoming patch.
Issues with German pointer and Scent hound. Issues with the Scent Hound tracking behaviour have been resolved in the latest patch.
Turkey and Motion Predator Decoys. This bug has been fixed in the latest patch.
Rare and Trophy of the Week
This competition has become so popular that we have decided to make it a permanent feature and it's here to stay for the foreseeable future!
So, if you have shot a rare or high scoring animal from this week and want a chance to win, then share them in the correct thread on our forum, don't forget to mention the score! Rares go into this thread and trophy animals into this one. We currently don't have a competition for Non-Typicals, but they go into this thread.
This Weeks Winners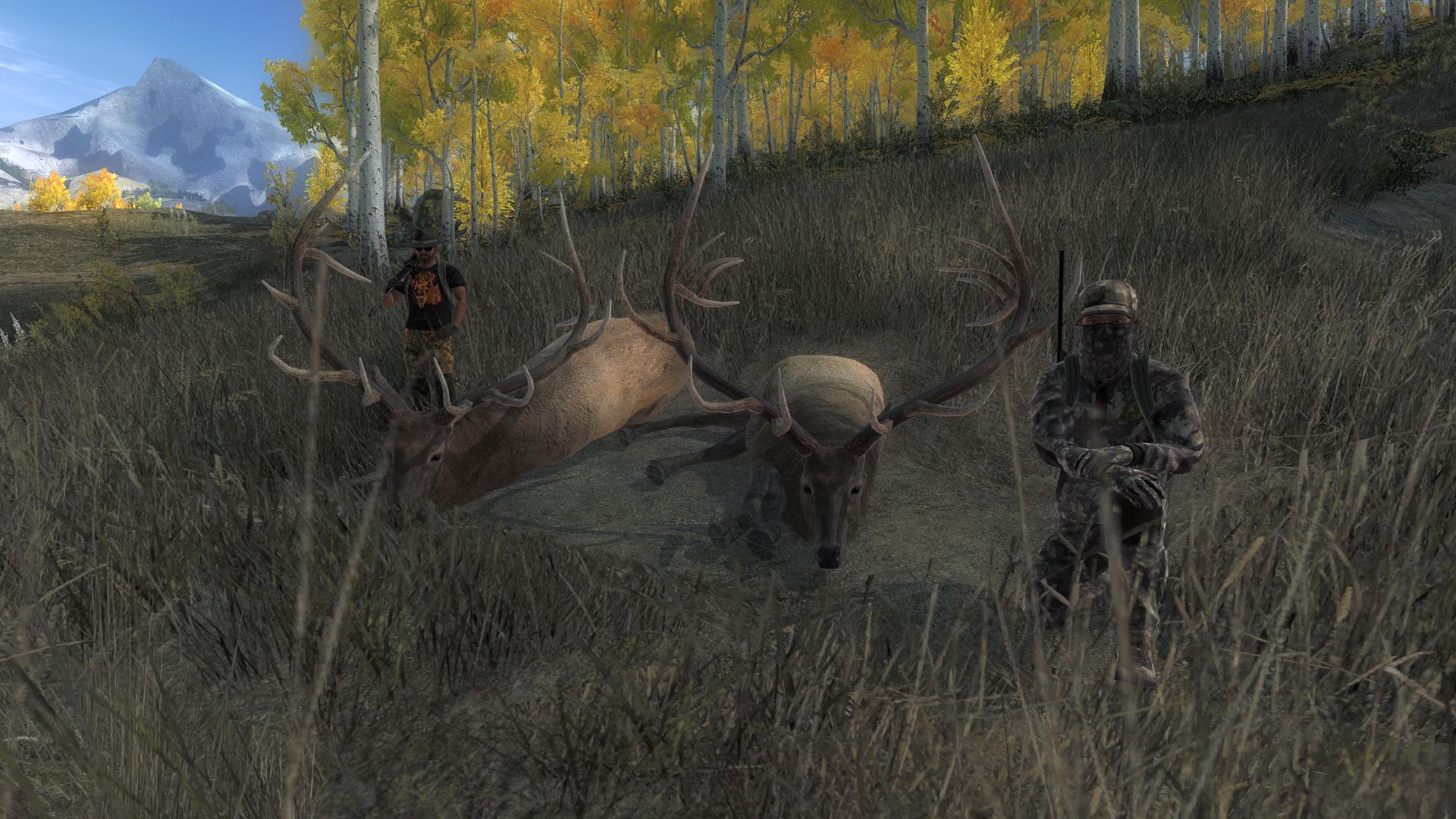 The 'Trophy of the Week' is this Rocky Mountain Elk (on the right), Geeman1820 went for a hunt with Flinter and managed to get this great Rocky Mountain Elk, scoring 413.269!  If you are unsure of what many consider a trophy Rocky Mountain Elk, it is anything over the 400 scoring mark.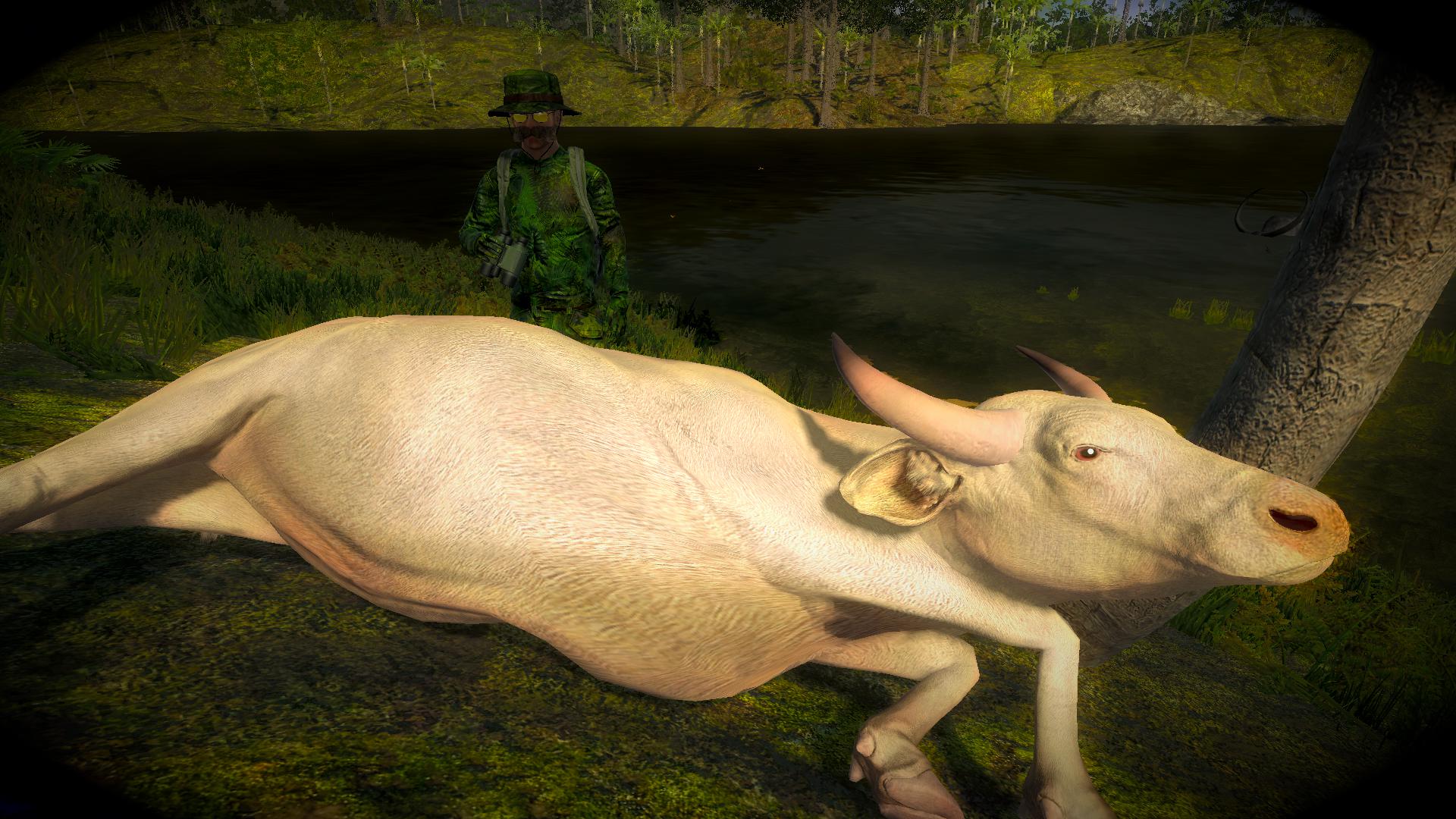 And the 'Rare of the Week' goes to 'Hawkeye' for this Albino Banteng with a score of 103,209 congrats!
Free Rotation
This week's free rotation, lets our guest hunters test their skills against Dall Sheep and Reindeer. Good luck and have fun!
Have a great week all,
Share this