Hi all!
Welcome to our first "proper" Status Update of 2019! We of course had some information out last week, but this is the first one in our traditional format.
We've starting slipping some real-world hunting footage into our Status Updates of late, and hopefully an opportunity to learn from someone else's mistake (this kind of mistake it's generally safer for someone else to do the learning for you!). REAL LIFE HUNT FOOTAGE, Do not click unless you wish to see this type of content: WATCH
New "Engraved" 9.3x74R O/U Break Action Variant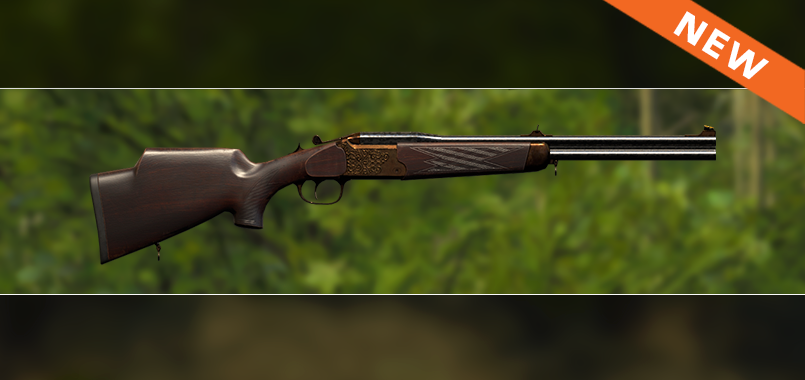 This subtle, refined, and very stylish, variant of the 9.3x74R O/U is available for purchase now, look for it in the store now! Tune in to tomorrow's stream to be in with a chance of potentially getting your hands on one.
Ptarmigan Competitions Are Here!
Big thanks to Andhii for helping us put together this exciting bundle of Ptarmigan competitions.  The first of these new competitions will go live today; and then continue to be rolled out, one every other day, over the next week. In conjunction with this we'll also have all Ptarmigan types as our free species this week.
Keep your eyes open for several other new species receiving competition packs in the coming weeks!
Free Species Rotation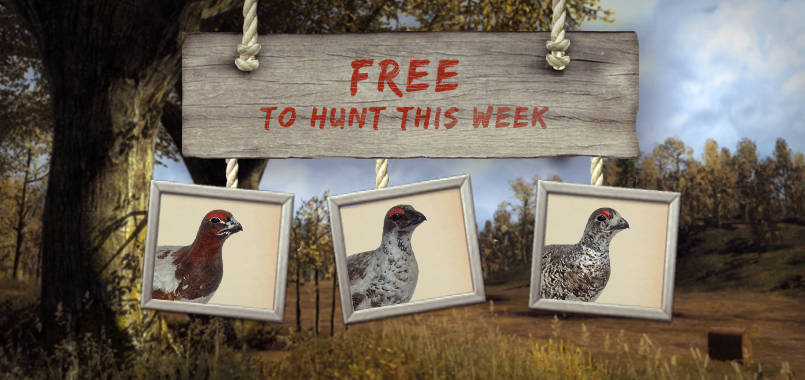 As per above, this week's free rotation is all about Ptarmigan of all types, so our guests are welcome to get out there and get competitive!
New Schedule for Sales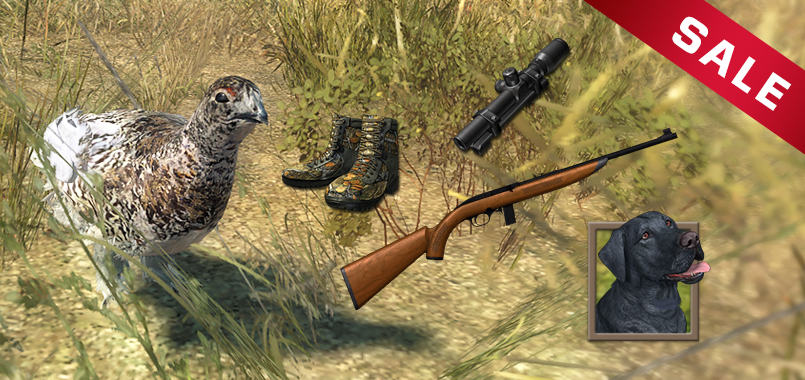 A special entry regarding sales today (which coincidentally are ALSO all about Ptarmigan!).  From today all sales will be running Wednesday through to Monday, so be sure to take a peek at our sales section of our store page a little earlier from now on.
Game Update
Today also sees various bug fixes and quality-of-life improvements landing in the EHR as well as cleaning up the last bits from our Holiday Event (looking at you Rudolph!).
Additions:
Added 9.3x74R Engraved O/U Break Action Rifle
Changes:
Removed Rudolph population.
Bug fixes:
Fixed ptarmigan scoring issues in multiplayer.

Wolves now lay down when shot in the spine, instead of just standing still.

Fixed a multiplayer issue where players who had certain items equipped would not synchronize their animations to other players.

Waterfowls will no longer sink through the water and then slowly come back up again.

The feedback message that shows up when you try to place a Scout Bolt Action Rifle on too steep ground will no longer show up for other players in a multiplayer session.
This week's Trophy of the Week goes to LimJahey.  A little shy of the top 100, but still a beautiful Blacktail all the same, congratulations!
Rare of the week goes to IanBiel (with a little help from their friend KBCAO) for this gorgeous piebald deer. Well done!
And that about wraps up our Status Update this week, don't forget to tune in to tomorrow's stream!
/Graham and theHunter Classic Team
[Comments]
Share this