Hello Hunters,
Well, it feels like forever since I wrote the last one of these, well seven weeks to be precise! I had an absolute blast back in New Zealand and Australia. I also put my bow to good use and managed to get some blood on a few arrows, in total I took four goats, two rabbits and two hares with the bow. I have some videos from my hunts, sadly the days I did decide to record, I saw animals but didn't manage to down any, but it will give you a good idea of where I grew up and the terrain I am use to hunting in. I need to edit it them all together, once I am happy with it, i'll upload it to YouTube. But if you want to read a write up about my hunts and see the animals I bagged, you can have a little read here. I don't know if I will ever pick up a rifle again, I just don't think pulling the trigger will ever meet the adrenaline rush, or sense of achievement that bow hunting has shown me. The only problem now, I have a huge itch that I can not scratch over here in Sweden, so I am starting to put together some plans for hunting next season… in another country!
This weeks video came out a little over a month ago and features Joe Rogan and John Dudley. It's a shorter video and I think Joe gets a little bit too Joe on it, but credit where credit is due, he pulls off a nice shot and it is still a good video! Remember this shows real footage, so if you prefer to keep your fix virtual, DO NOT CLICK Here.
Doc Themed Event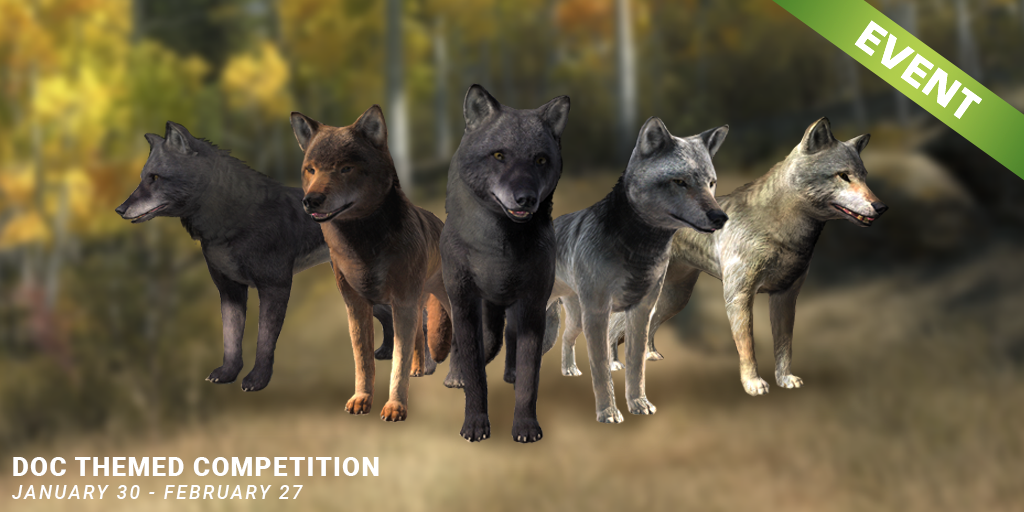 "Howdy Hunters!
Doc here, I have heard reports about the wolf population in Timbergold's starting to get out of hand, so I went and took a look myself, you guys were not kidding! They need thinning out a little, not only for the benefit of the other species in the area, but to insure we do not get a disease outbreak amongst the packs. So I am reaching out to all hunters in the EHR for your help to bring the population back inline. As a collective community I need you to shoot every damn wolf you see, bring their tails in as proof and as the population comes down, you will all be rewarded in stages, with some great prizes. To make things a bit easier for you all, I have had some sound technicians put together a new E-call that attracts wolves! Good luck to you all and thanks in advance."
You read that right hunters, it is time to do something about the wolf population once and for all. Collectively as a community if you manage to meet the goals Doc has set, not only will you be rewarded with some great prizes, but the wolf population will be reduced in Timbergold Trails, FOR GOOD!
There is now a new E-Call that can be purchased in the store and when used in conjunction with the "Shockwave' Electronic caller it can be used to call in wolves. This should make things easier and I would imagine ambushing them as a team, would be a good way to thin those packs out!
The goals that Doc has set out and the rewards are as follows:
| | | |
| --- | --- | --- |
| Milestones: | Required Harvests: | Prize: |
| Grey Wolf – Legend | 50 000 Harvests | .270 Bolt Action Rifle (Grey Wolf) + 2 Towers |
| Grey Wolf – Elite | 40 000 Harvests | Happy Camper Tent (Fall Camo) |
| Grey Wolf – Expert | 30 000 Harvests | Tree Stand (Basic Camo) |
| Grey Wolf – Trained | 20 000 Harvests | Hunting Backpack (Fall Forest) + Medkit (10) |
| Grey Wolf – Novice | 10 000 Harvests | Camping Supplies (15) + Scent Eliminator Mini |
Depending what Milestone you reach, will determine on how much the wolf population will be reduced by. If you manage to meet the Legend tier, the population will be reduced by half, for good! As the Milestones are reached, wolves will disappear from the banner in the launcher, which can also be clicked on to read more information. There is also a visual counter that can be found in the top right of the launcher.
To qualify for the prizes you must harvest at least 25 wolves, Doc doesn't like freeloaders!
Good luck all and have fun!
New Engraved Drilling Combination Gun
You can now buy the new engraved Drilling Rifle. If you are a hunter that likes their guns to be a little more detailed, this is for you! Take a look.
Bobcat Competitions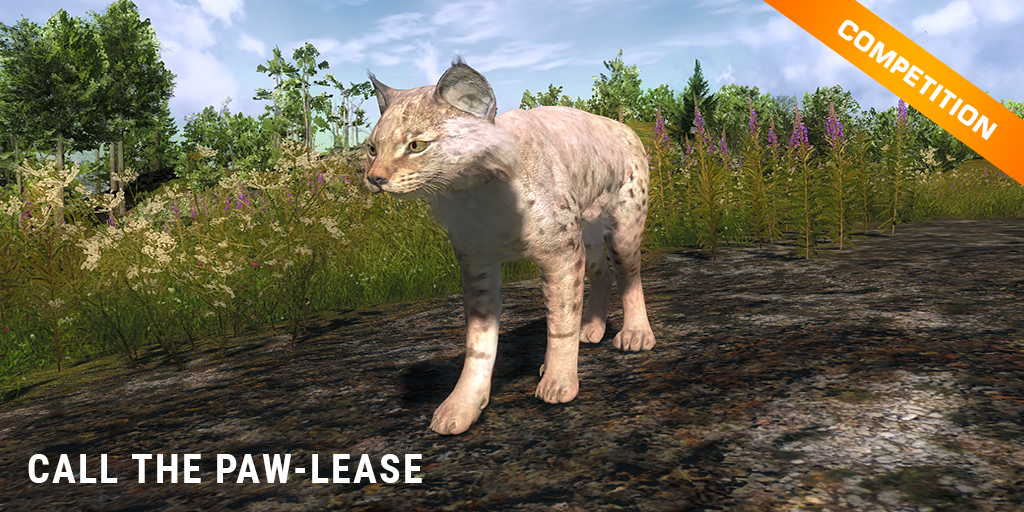 Today we also release Bobcat missions into the competition rotation.
As well as the usual, highest scoring and biggest Bobcat comps, there are 5 unique ones:
Pounce to my Level
The average score of your top 3 Bobcat harvests is your competition entry. Targets must be shot at over 50 meters (Approx. 164 feet) and with only one shot. Highest average score wins.
Call the Paw-lease
The heaviest weighing unspooked Bobcat shot with a .223 Semi-Automatic Rifle from a Tower, Treestand, Ground Blind, Tripodstand or Shooting Tripod Rest is your competition entry.
Nothing Purr-sonal
The highest scoring unspooked Bobcat shot with a .50 Cap Lock Muzzleloader at under 25 meters (Approx. 82 feet) is your competition entry. Target must be shot in the heart or lungs only.
Absolute Mew-nimum
The closest shot Bobcat with a weight of 15 kg (Approx. 33 lbs) shot using any .357 Revolver without a scope is your competition entry. Stands, Towers, Blinds and Shooting Tripod Rests are not allowed.
Lion King
The highest scoring male Bobcat amongst your first 5 harvests is your competition entry. Harvests afterwards will not count. Shotguns only, 100% Harvest Value required.
Lock&Learn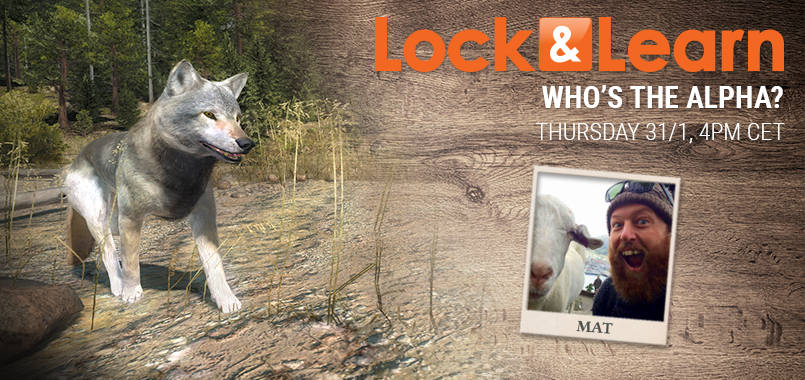 Make sure you tune in tomorrow, I will be doing my best to lower the wolf numbers in Timbergold Trails and giving the new E-caller a try. www.twitch.com/expansiveworlds , 4pm, see you then!
Rare and Trophy of the Week
These Weekly competitions are super popular. The Trophy of the Week gets selected on Monday's and Rare of the Week gets selected on Wednesday's.
So, if you have shot a rare or high scoring animal from this week and want a chance to win, then share them in the correct thread on our forum, don't forget to mention the score! Rares go into this thread and trophy animals into this one. We currently don't have a competition for Non-Typicals, but they go into this thread.
This Week's Winners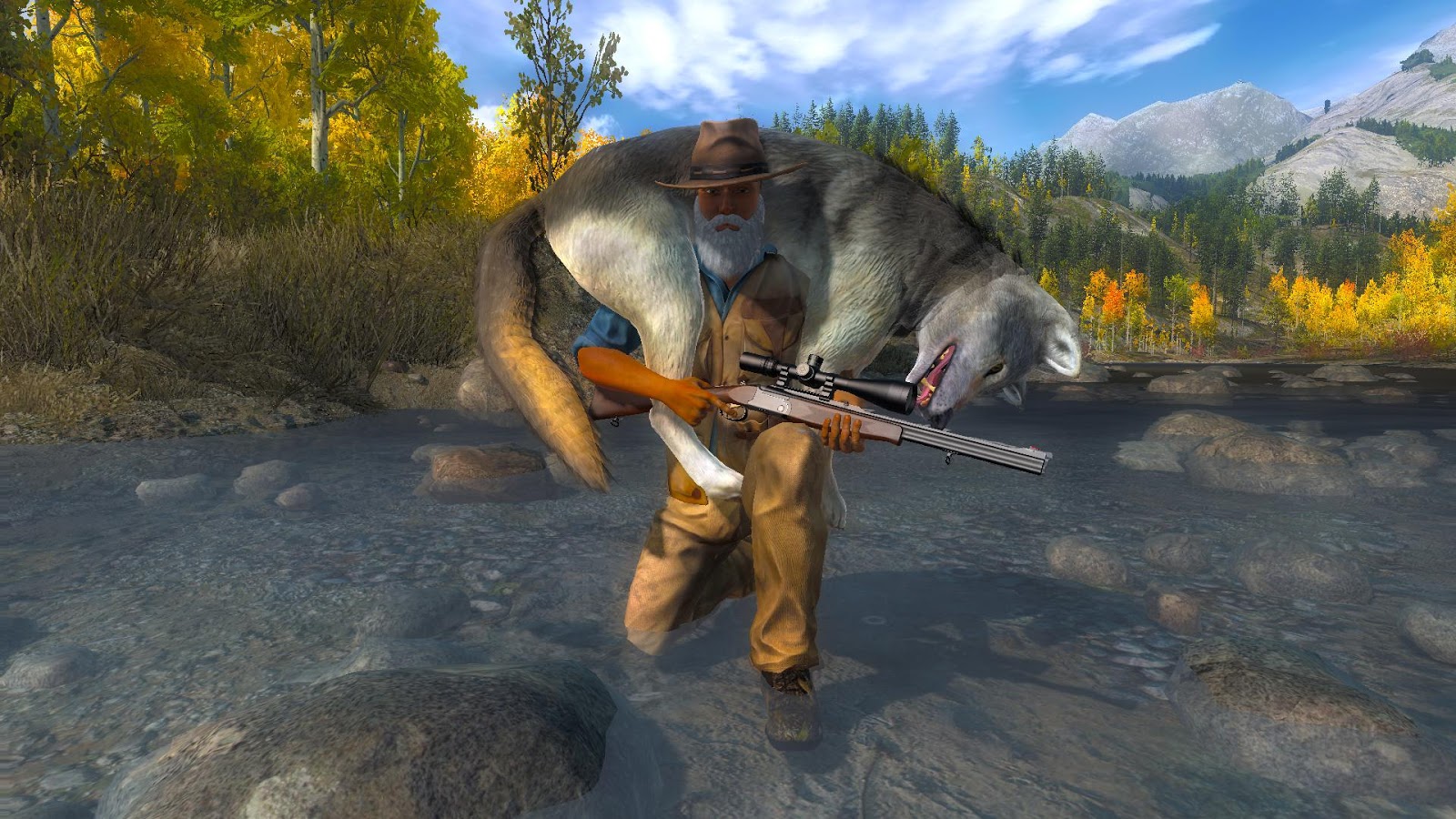 The 'Trophy of the Week' is this great photo of a Grey Wolf! It was shot by 'Trelek1988' and scored 16.339! A unique trophy pose and a very themey for this week, well done!!
The 'Rare of the Week' goes to 'Schlachtwolf' for this Albino Bobcat, with a score of 6.456, congratulations, a very nice Trophy!
Free Rotation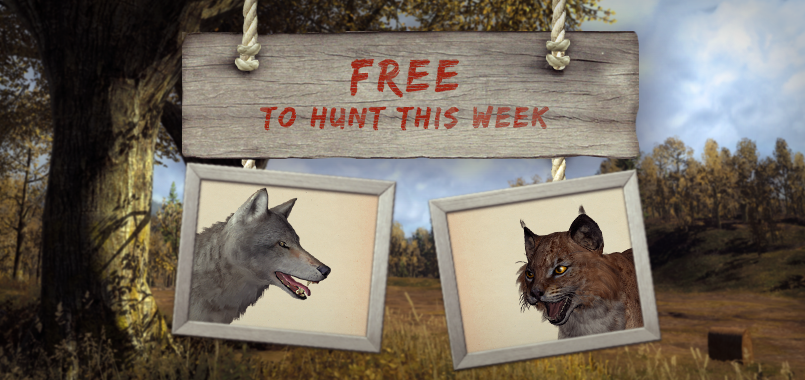 This week Bobcat and Grey Wolf are free to hunt, good luck!
Have a great week all,
Share this