Hello hunters,
There was no status update last week, since we were busy with the beta test, so we've packed the news from the last two weeks together. And here you go:
Stress test on beta: Heads up and thanks
Last week we ran a stress test of our new server environment on Google App Engine, which many of you joined. Huge thanks to everyone who found time to participate, we really appreciate your help! In general, the test went well, the server managed to cope with the load. We've found some bugs and issues, which are being worked on right now. To release fixes for those, we'll be doing server maintenance in the next couple of weeks, the exact date and time will be communicated well in advance.
New video competition: theHunter video trailer
It's has been a while since our last video competition, so let's do it again. This time we'd like you to create a short video trailer of the game. The trailer has to highlight the hallmarks of theHunter: stunning scenery, the tension of shooting an animal, action-packed gameplay. The winner will receive 5000 em$ or a 'Pathfinder' membership bundle, not to mention all the fame and glory. You can read the competition rules here.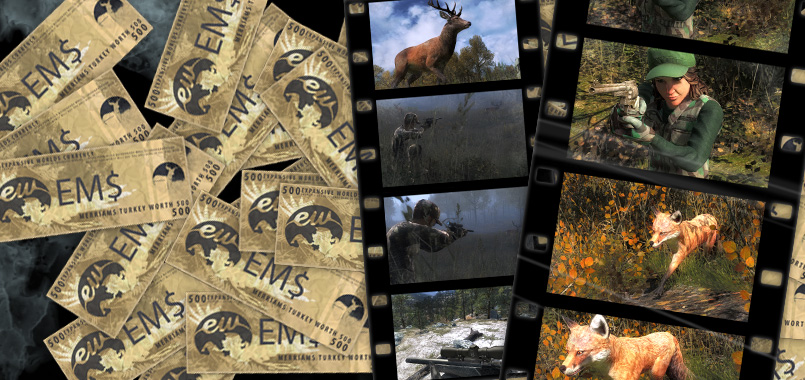 Introducing changes in the bug handling process
Lately there has been growing frustration within the community regarding the way in which bugs and bug reports are handled. We appreciate your willingness to help us find and resolve bugs and we do acknowledge that there were some annoying issues that fell between the cracks in the past, so we've evaluated and revamped our process for collecting and documenting information about bugs.
There is a lot of internal work going on, but for you the most significant change is the new rules that apply to reporting bugs in the forum. From now on all submitted posts will undergo thorough pre-moderation, to ensure that only real issues with sufficient and relevant information find their way onto the development agenda, allowing the team to address bugs in a more efficient manner, without having to trawl through loads of often unrelated discussions. You can learn more about the changes in this announcement. We'll also try to provide timely feedback in bug forum threads on the status of the issue, so the whole bug fixing process will hopefully become more open and transparent.
Like with any new process, there might be some bumps in the beginning, so we're asking for your patience.
German forum volunteers wanted
As the highly valued admins of our German community forum MonacoSteve and Welsch are leaving their posts in favour of other duties, we are looking for volunteers who would be willing to step in and help us manage huntertalk.de. We are looking for Admins / Mods who speak fluent German and good English, are keen theHunter players and preferably have some experience with phpBB forum platforms.
If you're interested or have any questions please send me a PM on the English or German forum.
That's it for now, good hunting all!
Share this